Different sensibilities & visions: Débruit & Istanbul
French musician and producer Xavier Thomas' solo project Débruit, released a brand new album called Débruit & Istanbul. The album recorded in Istanbul and includes a wide range of Turkish musicians from Mustafa Özkent to Gaye Su Akyol. We had a chance to talk with Thomas about the album and his experiences in Turkey.

Interview: Cem Kayıran Photo: Luis Peña

How did you come up with the idea of making a record Istanbul? What makes the city special for you?
Well the festival 'Europalia' called me to ask me if I'd be interested to be part of the whole project. They had a huge exhibition about Istanbul called 'imagine Istanbul' at the Bozar museum with pictures of the city from Ara Guler and Cartier Breton but also art by Sophie Calle, installations etc… They had a whole musical programme too.
I said yes straight away and tried to find people I wanted to collaborate with some were part of the program some not. The city is special in so many ways, I think it's very modern on top of having a long history and mix of influences, it has obviously a very special geographic disposition and I love the amount of many different angles and views you can have in the city.
You worked with a wide range of musicians both from Turkey's long music history such as Mustafa Özkent and Okay Temiz as well as more recent musicians such as Gaye Su Akyol and Melike Şahin. How did you meet these musicians and how was working with them?
Well I had a shortlist of people I wanted to work with, so I activated all the contacts I had and was given in order to find them and meet them. For some it needed a bit of convincing, to understand the project, some others dived right in and trusted me from the start.
It was always a journey through the city and a particular story with each, artists have different sensibilities, visions, process, history… I really enjoyed it as it showed me more of how to feel about a collaboration, it taught me a lot too, how to communicate and adapt, react or interact with different sensibilities, there was so many stories especially from the older musicians.
Can you give us some details about the sound installation you made in Brussels?
In the middle of the Imagine Istanbul exhibition, the record (version available at the time, rough version) was listenable. It was a kind of my imagination through Istanbul, the synthetic aesthetic which can be modern but with essential roots and a synthesis of my encounter with some artists from Istanbul. People could sit down and listen to it on headphones. It was an early version of the recording that is now finished.
You described your music as "electronic music but with a human feel". What are the dominant feelings you had during the creation span of débruit & Istanbul?
Yes my music is very electronic but doesn't leave feelings on the side, groove either and of course essential mistakes which machine are made to not make, I love mistake and imperfection as they reflect us, I sometime try to provoque them. I had many feelings, a feeling discovery, excitement, nervousness, maybe I started to answer that in previous questions already?
Were you interested in Turkish music before starting to work on this album? Can you name some of your favorite tunes, albums, musicians etc.?
Yes I was I had even made an EP a long time ago called Sis Surpriz, with a track and video like Mezde on youtube, I love the music of Baris Manco, Selda, Gokcen Kaynatan, Mustafa Ozkent, Okay Temiz, Erkin Koray, Arif Sag and much more etc… The passion and intensity can be felt, some approaches to modern music in the 70's were very original and unique.
I know that you're pretty mindful of the visual side of your music. Will there be any visual companions for the songs in débruit & Istanbul?
Yes the artwork of the record by 'the bow' is a representation of the bosphorus from above, also there is a video being made at the moment that has abstract bits of Istanbul in it mixed with an analog video process from the 80's.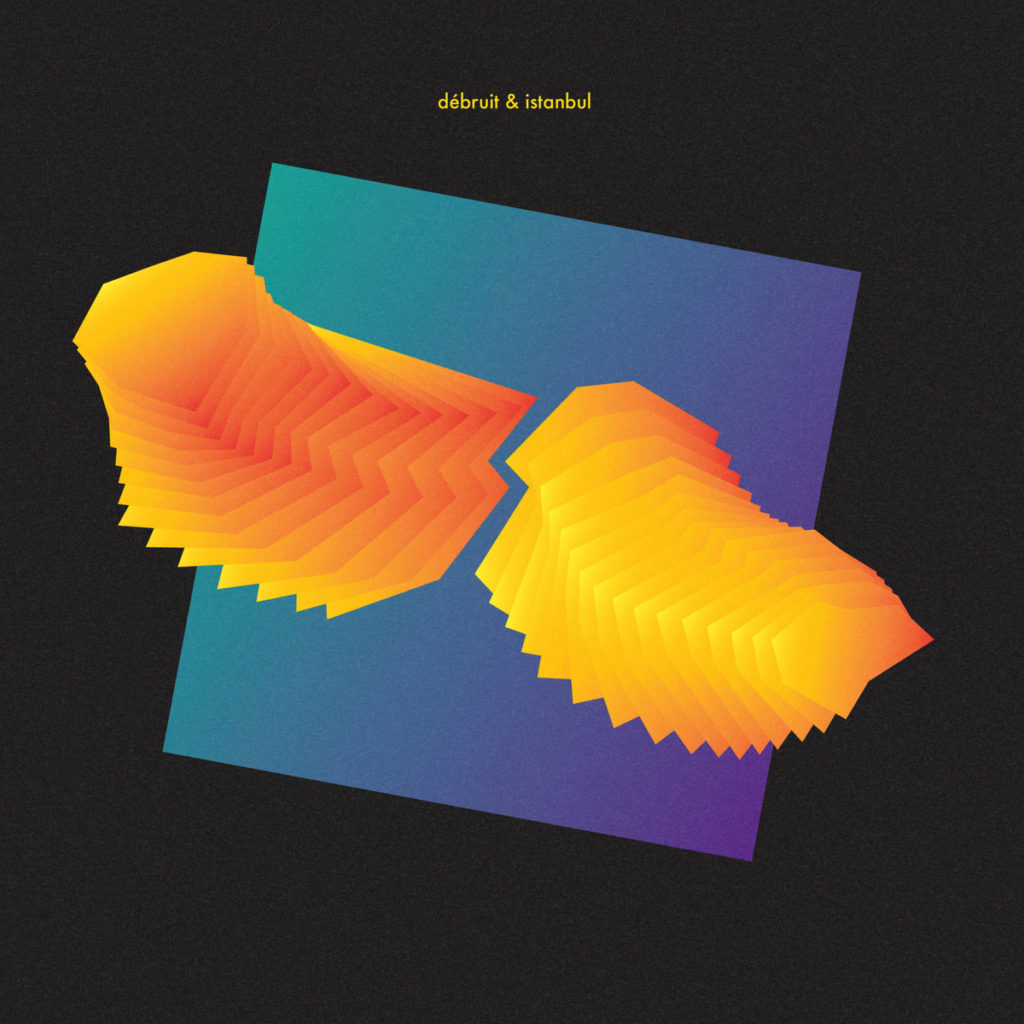 What's the story of the artwork of the LP? I imagine that those two yellow parts symbolize the two continents of the city. Is that right?
Yes, it is and the Bosphorus in the middle. there is also an element of a door, the shapes are echoing as a conversation between history and modernity, a dialogue (or how not to say a bridge) between generations, visions and inspirations. There is a tilt in the visual too like a twist in the musical sense too.
Finally, are you planning to perform the songs in the album with those musicians in Istanbul? That'd be a wonderful show!
Ah I wish but I think that logistically it will be too hard to organise. I'm aware that all the musicians involved are really busy with their own careers but I would love to have the opportunity to put that together one day, it'd be such a treat to play it live and have everyone involved together in one place.