Artistic creativity that transcends war and political rivalries: ArtHere
Bant Mag. is collaborating with ArtHere space on the Seasons exhibition series which will be running throughout this year at Bant Mag. Mekan. According to Omar Berakdar, the initiator of neighbouring ArtHere space, "art and humanity are beyond nations, countries and borders".
Interview by Ekin Sanaç
ArtHere opened early 2015 in the Yeldeğirmeni neighbourhood, part of Kadıköy, Istanbul. The space was opened by Syrian artists, who had fled their hometown due to the ongoing war, in order to create a free area and space for all artists, Syrian or Turkish. ArtHere is one of the first art spaces in the Yeldeğirmeni neighbourhood, which has been flourishing in the recent months. Omar Berakdar, the initiator of ArtHere space, moved to Istanbul in 2012. He is a Syrian photography and media artist, as well as a collector who has also been active in Middle East Photograph Preservation Initiative. The charming ArtHere space has it all from a dark room to painting studio available to all artists along with a kitchen/café and well-attended live music and story telling happenings. Omar Berakdar is here to tell us about it all.
You moved to Istanbul in 2012 and in 2015 you started the ArtHere space and activities. How has that time in between been influenced the ArtHere space? What were the things that made you say, "Our space and activities have to be like this"?
A few months after moving to Istanbul, I realised that during my previous visits to Turkey I'd only scratched the surface, and that there was still a lot for me understand and discover.
Although Turks and Syrians are neighbours, and in spite of many cultural and historical bonds, recent generations knew little about one another, so founding ArtHere was an attempt to close this gap and increase information and interaction between the people of Turkey and Syrian artists or Syrians in general. So to develop the project, we depended on building connections through artistic approaches and ideas. We hope to create high quality artwork which will also have an impact on local society, with an eye on the political landscape and world events, which are both a threat and an opportunity. We approach topics with artistic rather than academic means of expression to make them easier to grasp. We hope that this unique content and visual presence will provide accessible information and create the atmosphere for a real debate between artists / people from Syria and Turkey. We believe this will be more nuanced than the stereotyped judgments in the mainstream news.
ArtHere is a strictly "independent" space and organization and you seem to have everything there from working space studios to a dark room, a cafe, shows… What does being "independent" mean to you and why do you find it crucial for your activities?
I guess being independent is the dream of any art organisation but it is not easy to achieve. What we try to do in ArtHere is to meet our basic needs and give ourselves the means to survive by selling art works and through our café. This is to make sure we can remain open without depending on charity or fundraising money to pay our rent and basic bills. Also, since our basic survival is not threatened we can focus on quality projects and exclude calls for grants which don't fit in our artistic vision and criteria. We realise however that cooperation and support are desirable if we want to develop and go further with more ambitious projects.
You have created a space, area and contacts to help Syrian artists work and do art. ArtHere is a place and organization for likeminded artists – Syrian, Turkish, or from elsewhere and for everyone, and you can feel this the moment you enter the space. This no-nation art vibe is very crucial for ArtHere. What are the major things you do and care about in order to create this feeling?
I guess this was in reaction to all the geopolitical changes around us, the mass exodus, the hardening of the concept of borders, wars, the generally ugly international political atmosphere and the current backlash against equality, freedom of speech and the right to free movement for all human beings. These are some of the reasons why we want ArtHere to be a space for artistic creativity that transcends war and political rivalries. And we are very glad to hear that the space does provide such a vibe.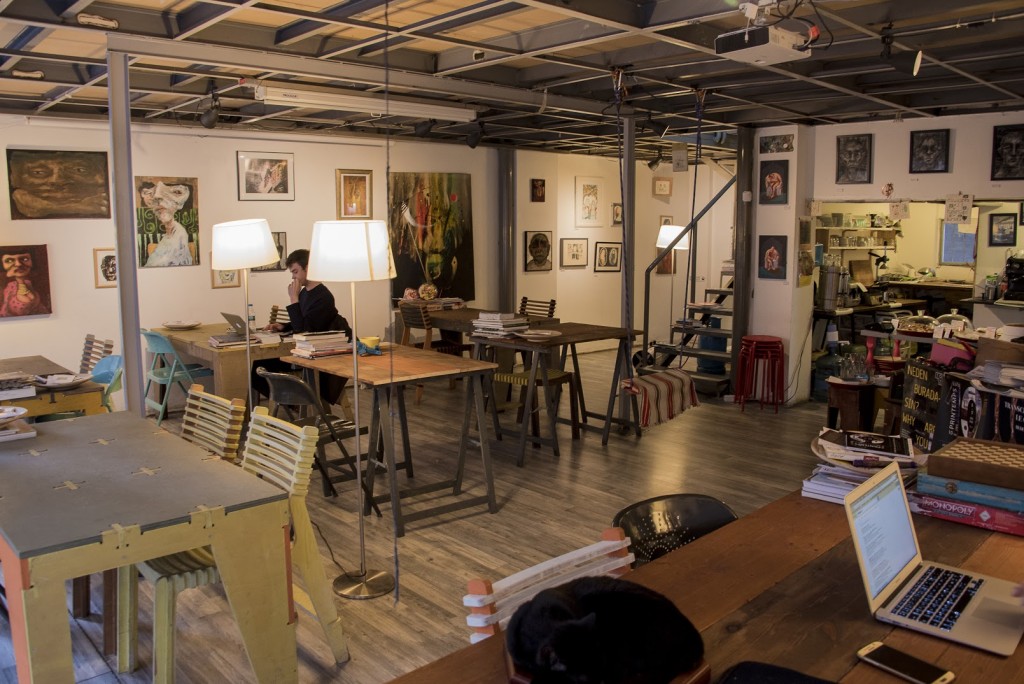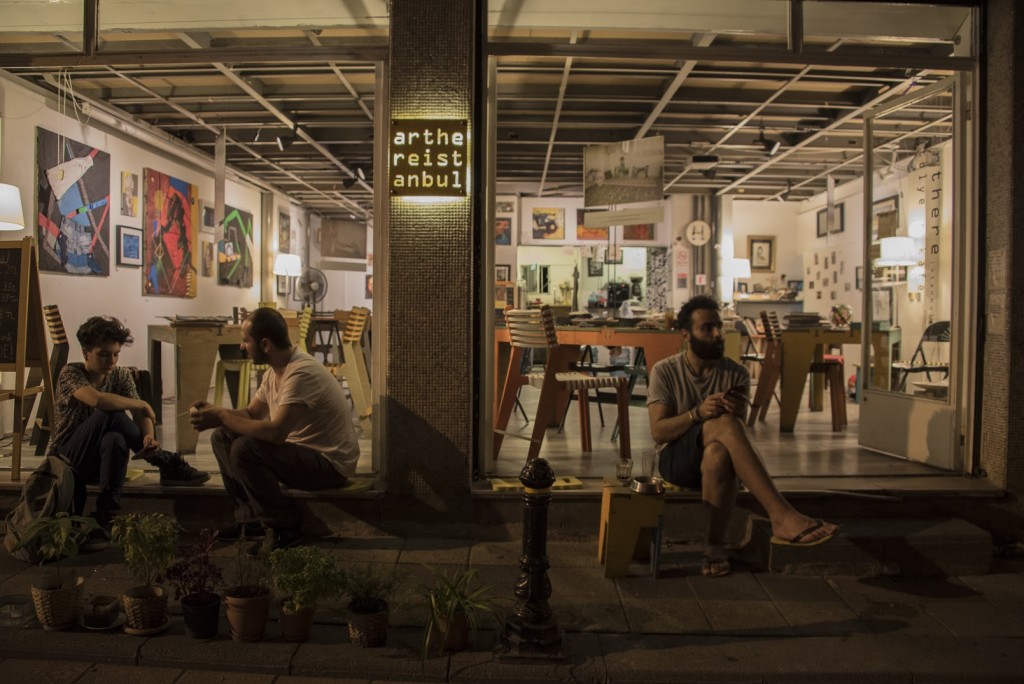 Your team has been growing since you first opened the space. Is it through the space you got to meet each other? Can you tell us a little about how the ArtHere team has grown to what it is?
The nature of the Syrian conflict means lots of the Syrian artists who are here in Turkey do not stay permanently, but head elsewhere, even if nowadays more and more are thinking of settling here. That's reflected in the ArtHere team. Lots of the Syrian artists who are members of the team or represented by ArtHere have already left but in this first year our network in Turkey and abroad has grown, which has encouraged Turkish and international art managers, artists and art activists to join.
We value this mix in our team. What gathers the people in ArtHere is our dream, which we have achieved to a certain extent, of being a hub, a meeting point, and evidence that art and humanity are beyond nations, countries and borders.
How did you decide to open the space in Yeldeğirmeni? Compared to the past, it's a very lively neighbourhood now. How do you think the neighbourhood has changed since you first opened ArtHere?
I found the atmosphere in Yeldeğirmeni ideal for the project. It's got a great cosmopolitan vibe, it's a very active neighbourhood, with a mix of people, graffiti, beautiful original old buildings, lots of small art studios, collective art spaces, and because also the rents used to be reasonable. ArtHere was the first artspace in Rasimpasa to open to the public with an art cafe inside. I thought it was a big shame that all these lovely studios in this area were closed to the public but in the last two years, the scene has changed completely in Yeldeğirmeni. Dozens of cafés have opened their doors, lots with art in mind, some using the term atelier-café (as we do) to define themselves. These changes seem to be absorbed by the neighbourhood so far, but unfortunately, that's not without a price. Yeldeğirmeni is now a desirable place and prices have started to go up. It would be a shame if the original population found themselves priced out.
You organize packed shows and have concerts at ArtHere as well with musicians from Turkey, Syria, Iran, France, Germany, Greece, and so on. How do you pick the music for the shows and invite bands to play? Who is welcome to play music at ArtHere?
One of our aims is to encourage all kinds of artistic expression so concerts and shows are one of our main activities. Anyone who's willing to improvise or try new collaborations (preferably with other artists from anywhere in the world) is welcome. One thing we try to do is to bring several artists together to perform. It could be music, theatre, poetry, or story telling – you name it. Artists performing in our space don't get paid for their shows, and we don't charge an entrance fee. The admission is always free. Bands play in our space for their own pleasure and that of the public, not for money. In most cases this produces wonderful results and a great interaction between performers and the audience.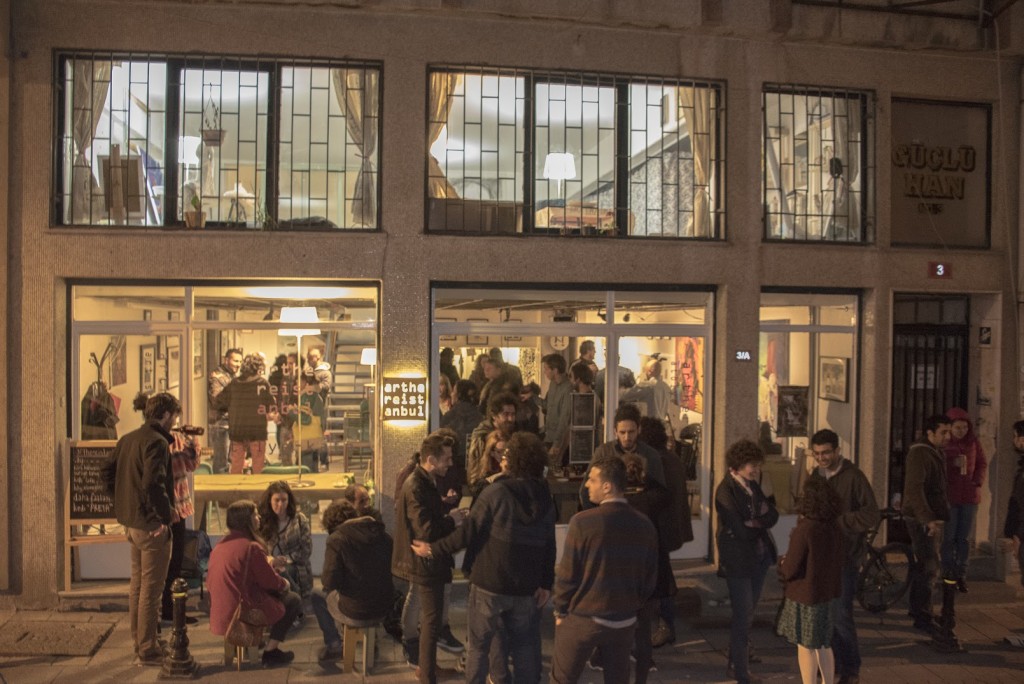 What are some of the dreams you have for ArtHere? What are some of your plans for the rest of 2016?
There are no limits for our dreams. We dream of multicultural, cosmopolitan art institutions which erase borders and increase tolerance and understanding, as a permanent bridge between cultures. Maybe one day we'll live to see ArtHeredamascus, ArtHereberlin, and many others, who knows?
As for our plans for this year, we have several exhibitions in the pipeline, one in cooperation with Bant Mag., and several others with different institutions and art organizations in Turkey and abroad.
Meanwhile, we're also trying to focus on strengthening the structure of our organization, expanding our team and establishing connections with other art institutions and initiatives locally and abroad.