Rolling waves and deformed figures: Sedat Girgin
Illustrator Sedat Girgin, who will be featured as part of the Seasons – Act II exhibition opening on 9 July at Bant Mag. Mekân, talks to us about the off-kilter world of lines he's created and the new series he's working on.
Interview by Leyla Aksu
Familiar on the pages of Bant Mag., in addition to the countless books and articles he has illustrated, Sedat Girgin and his off kilter drawings have become well known over the years. The characters he brings to life through his use of colour and intentional yet loose lines, imbues his distinct shaky imagery with an almost skewed warmth and wistful restlessness. Starting on 9 July at Bant Mag. Mekân, we will be able to observe the partnered language forming between the different works of artists Sedat Girgin and Toufic Hamidi as part of the Seasons – Act II exhibition series. Before bringing us a new set of pieces for the exhibition, Girgin talked a bit about the interaction between text and image, the "wobbly" world he depicts, and his new "mad" series.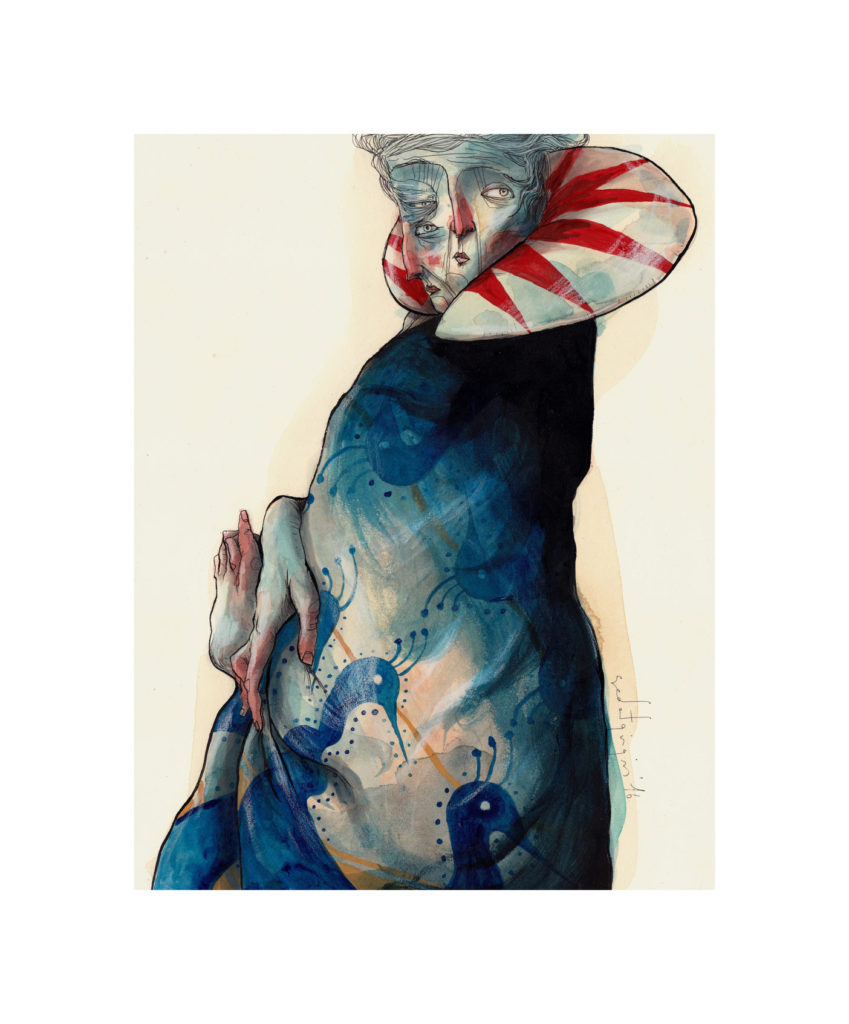 You've been drawing since you were young. Was there ever a time you thought you wouldn't be doing this for a living? And can you tell us a bit about your arts education?
Yes, of course, there was. When I was studying fine arts in high school, everything was great; I was drawing all the time. However, when I started attending the Mimar Sinan Fine Arts University for my vocational training and entered the Industrial Design programme, I realized drawing days would come to an end. This put me in a pretty distressing situation; so during that time, I held on to [drawing] even tighter. I drew continuously, as I had realized in my first year that I did not actually want to pursue this vocation. A while later, I noticed that my drawings were close in nature to illustration and so began working in this area. I have always greatly benefitted from the foundational arts education I received and the pattern courses I took in high school, and the classes I was able to take from the arts, graphics, and photography departments while in college have been highly beneficial as well.
You create an idiosyncratic world with your drawings, where your characters live in a uniquely playful, yet wry reality. Can you describe their world to us?
I can say that my style is a little sharp yet sincere. I don't really know where the wry, depressive side comes from, but I like the transfer of emotion through my lines. I try to draw as I feel, and this feels sincere. I like to play with forms. The figures that I draw are as deformed as can be; and I think that this expresses emotion more directly. Just like how rolling waves, as opposed to a calm, glassy sea, awakens a stronger and harsher feeling.
Your use of colour and line truly animate your illustrations; however, despite how full they are, your compositions always have room to breathe. What do you pay attention to while creating a composition?
This is really hard to describe, actually. I think it's the benefit of examining a great many works of art. You have to create a good composition before you can create a good drawing. I place great emphasis on balance in my works. Generally, I prefer a big-small study of value before I start working on something; I prepare a small value sketch and decide how the piece will be balanced.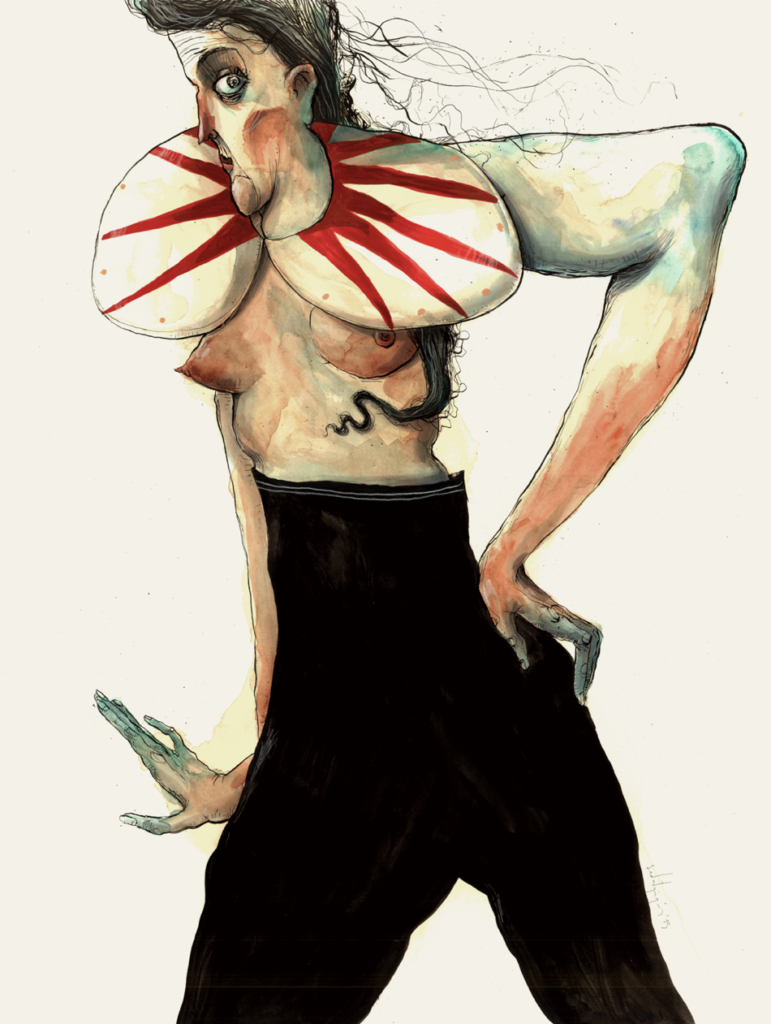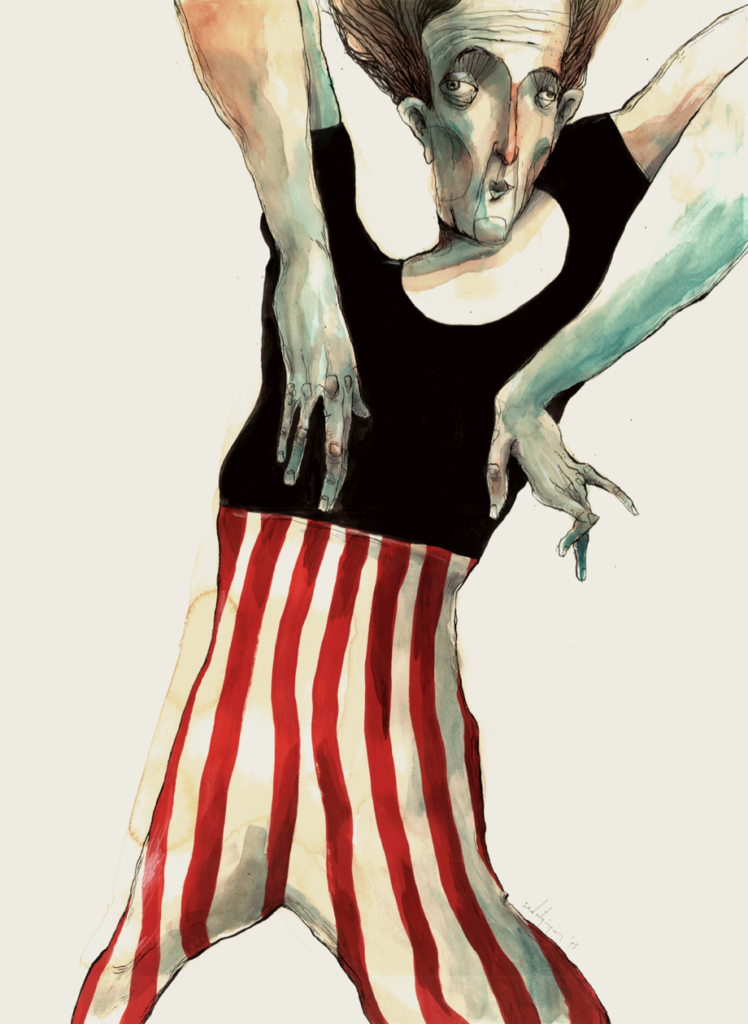 Illustrations in children's books can have a great and lasting impact on their readers. What does illustrating children's books mean to you? What were the stories and drawings that influenced you as a kid?
I actually didn't adopt a specific style for children's books. I tried and continue to try to draw for all ages. I didn't soften my lines all that much. Kids are already much less judgemental than we are. They can comprehend and read images and lines incredibly quickly.
I had always really loved Roald Dahl stories; and I have always found the lines of Quentin Blake, who brings his stories to life, to be so at ease and impressive.
You've illustrated dozens of magazine articles and almost over 80 books, also including narrative elements in your exhibitions. What does an effective relationship between text and image look like for you?
I think that the images should add something to the text. When you directly draw what is in the writing, it becomes a bit ornamental. But every small move you make on the story becomes an actual contribution. Of course illustration helps to read the text more easily, however, when the lines also start to tell a story, it all becomes even more delicious.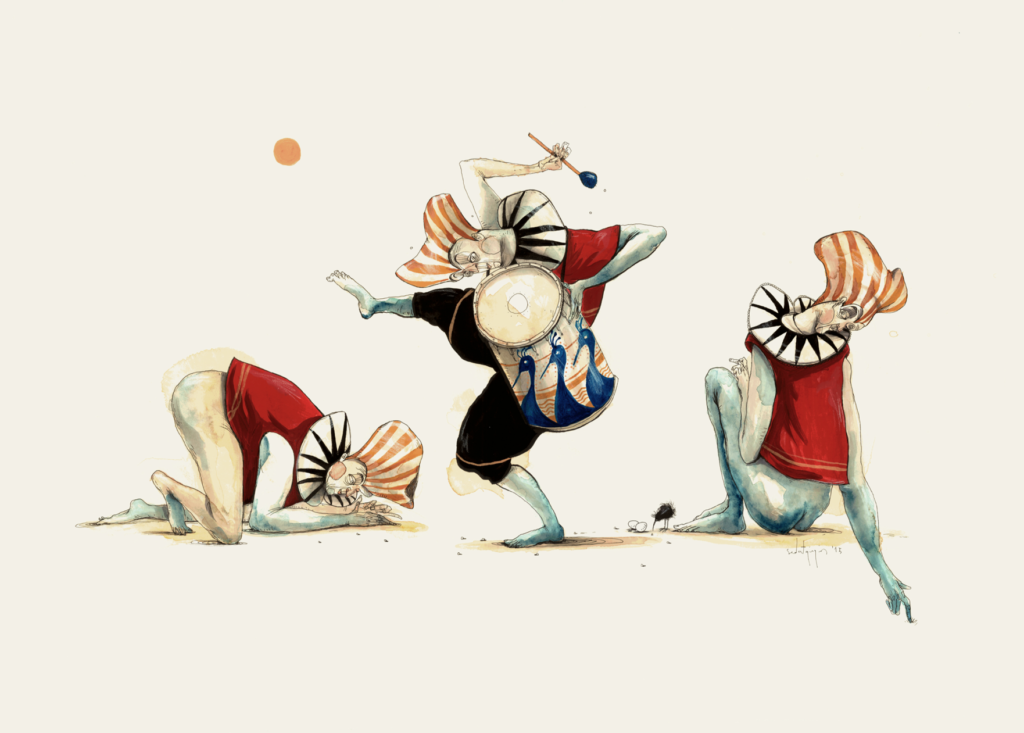 Can you tell us a bit about you creative process? Does it change at all when preparing for an exhibition?
The process is always the same; I'm by myself a lot and mull it over in my head for a long time. After a while, I pick up a pencil and what I visualised pours out on to paper. Following the initial idea and composition, the rest – detailing and colouring the work – is a lot easier and more enjoyable.
You're currently creating new material for the Seasons exhibition. What was the starting point for these pieces and when did you start working on them?
Actually, there's a series that I've been working on for a while: "Deliler" (The Mad).
I wanted to illustrate the mad because their body language, their movement really coalesces with my world. I've always been interested in madness and in the mad. I think that individuals whose mental health has deteriorated (I especially like to use the term, "mad") are freer than those who have adapted to every day life and living a routine existence. These individuals have difficulty integrating into society and this fascinates me. They move freely and freely carry out their thoughts and what comes into their minds. I feel that their body language always being at extremes coincides with my drawings.
So in this series, we see the dancing and costumed mad. The costumes worn for theatre and performances are the outfits, the uniform of a part. But the mad are actually individuals who are just dancing freely without playing a role; yet they have on these costumes as a uniform. I'm trying to create a kind of dichotomy.
And in the Seasons exhibition in particular, I will be undertaking the different stories of these figures.
What do you think sets these pieces apart from your previous work? What is inspiring you currently?
Compared to the illustrative works I prepare for industry, I can be a lot more free and harsh while working with these pieces. This relieves me greatly. My inner world is my biggest inspiration.