Last days of Death By Audio through the eyes of Ebru Yıldız: "We've Come So Far"
Music photographer Ebru Yıldız, who works with Pitchfork, NPR and The New York Times, recently published We've Come So Far. The book consists of the brilliant photos she took during the last 75 days of the legendary DIY venue in Brooklyn, Death By Audio. We had a chance to talk with Yıldız about the book, the venue and the vibe in there.
Interview by Cem Kayıran
Death By Audio is one of the pioneers of the DIY venue tradition around the world. How would you describe the atmosphere in there?
I think the first words that come to my mind are creative and friendly.
Which band was playing when you first visited Death By Audio? Can you name some of your favourite shows there?
The first show I went there was back in 2005 when they first moved into the space and they didn't have the showspace just yet, it was the area they were living in and they decided to throw a party and get bands play so that they could make some money to buy building material to actually build their rooms and practice spaces etc. I'm pretty sure the very first show I saw was Dirty on Purpose and A Place to Bury Strangers, but I can't remember the third band. I don't think the third band lived in the space. Members from both APTBS and Dirty on Purpose were roommates in the space at the time. I have some blurry, embarrassing photos from that night, Matt who directed the the documentary about Death By Audio actually used them in the movie. When it comes to special shows, there is the show that I broke my three front teeth and fractured my upper jaw at – that is definitely a turning point in my life in many ways, for one i had to go through dental treatment for almost seven years. I don't know the significance of it but I remember a Nice Face show very clearly along with a Hunters show. If you are asking about the shows I attended during the last 75 days, I would steal what Edan (sound person and booker at Death By Audio) said 'every night was the best show ever'. But obviously the very last night was very emotional.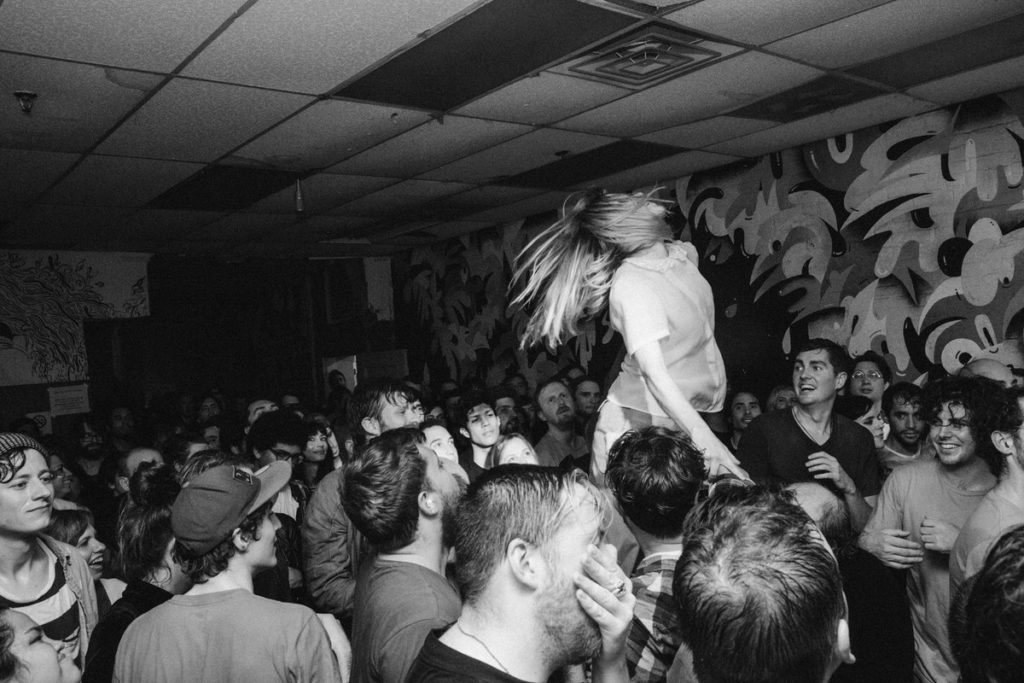 Some photos in the book show the audience and musicians in strange moods. I really think that documenting the audience is one of the most crucial details in such project. What did you focus on while you were making the final selections for the book?
Definitely, the crowd is the most important component of a show. To be honest, till this Death by Audio project, I was so in awe of the music makers that I didn't even realize I was ignoring the one of the most important parts of a live show. It is not entirely ignoring either, since i have been always a fan more than anything else – it never occurred to me to turn the camera to the group I am part of. They always had a different function in my photography work, being among them and getting lost among their energy but never the primary subject. As for editing the book, it was excruciating. I have edited it so many times and every time with something different in my head. First time around was mostly the photographs that I was attached to regardless of them being a good photo or not or if they are adding anything to the story or not. Then there was the phase of picking only photos that I think are good and an other phase of paying most attention to the story which ended up having photos I am not necessarily happy with. So it took me a while to find my way to balance everything out. There were so many photos that i loved but had to be left out. The last edit happened with the help of a friend of mine who happens to be an incredible photographer, Jessica Lehrman.
You took the photos in the book during the last 75 days of the venue. I expect that knowing the place was going to close probably added to the mood. What was in your mind during this 75 days-span?
Well, there are many reasons why I decided to do this project but one of the most important ones is there are all these places that closed down and there is no documentation of it and I wish there were. Like I wish there were more photos from Max's Kansas City or I would want to see photos from that bar that existed years ago called Kokie's in Williamsburg, not just photos of the place but you know to see and visually experience how it was like to be in it. I am thankful for the incredible photography book one of my heroes Godlis just put out about the people around CBGB. I am also thankful for Peters Andersson's Cafe Lehmitz for letting me experience something I would have never experienced otherwise. Do not get me wrong I am not comparing my book to any of these monumental books, I am just saying Death By Audio is my CBGB or my cafe Lehmitz. I just wanted people to get a taste of how the life was there. So that is what I had in mind. I tried not to be very emotional and I put myself in work mode, did not drink much, just worked. But of course it was insanely emotional.
How did you come up with the idea to name the book as "We've Come So Far"?
For the longest time I was debating between "Start Your Own Fucking Showspace" (Edan Wilber wore a hand made shirt on the very last night that said that) or "We've Come So Far" and that is coming from an A Place To Bury Strangers' song. I decided to go with We've Come So Far just because it sounded more positive and hopeful and that is what i wanted to the book to reflect. These guy turned a tragedy into a months long celebration so i tried to mostly focused on celebration and nothing negative and I wanted the name to reflect that and I like that it doesn't necessarily give any indication of anything being over but more like being appreciative of what has been done so far.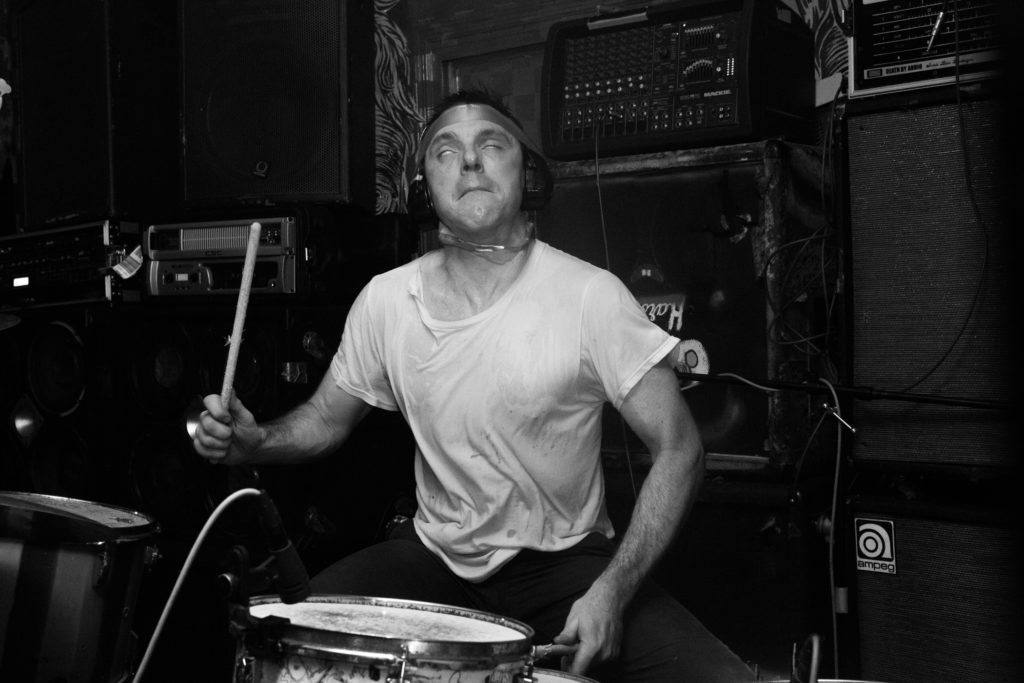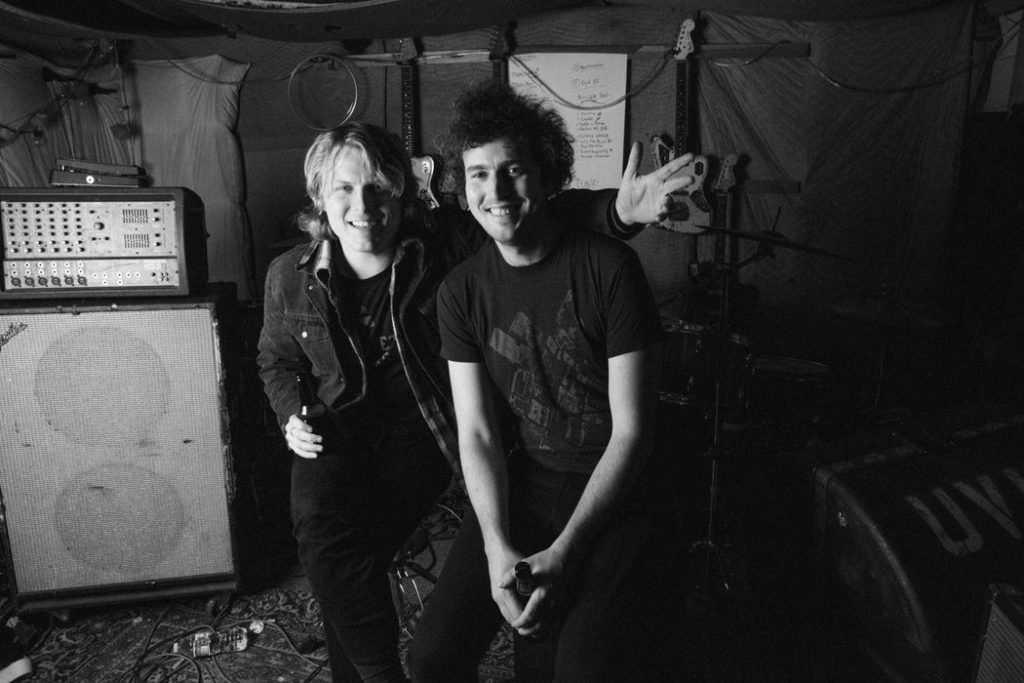 Some of the first photos you shared from the book showcased some portraits you took in Death By Audio. One of the most common details about these portraits is that you can see all of them smiling. Even Ty Segall! What do you think made them that happy in Death By Audio?
When you see the documentary that Matt made, you will get a better sense of it. But let me try to explain in my words. First of all regardless of who you are, you feel welcome and you don't feel out of place. Death By Audio gave a lot of people home away from home. On top of it most of these musicians got their very first New York show there. When you are an unknown band and out of town, it is difficult to get a show in New York. Edan apparently was listening to every single thing that was sent to him relentlessly and giving everyone a chance. Sam from Future Islands was saying, when they first met the guys from DBA, he felt instantly comfortable and he thought the DBA guys were like just like them. I heard stories of touring bands crashing in the back etc. All the musicians basically loved every single person that worked in the venue. I think everyone was happy to be part of something that is so far away from being commercial and that focuses only on creativity.
A Place To Bury Strangers played the last show at Death By Audio. I know that they're one of your favorite bands. What are the things that come to your mind when you think about that night?
They actually played one before the last band. It was oliver's birthday too. I can't even imagine how he must feel obviously besides being exhausted. The very last band was Lightning Bolt. The whole night was so intense from the beginning to the end. The emotions were all mixed up, I have photos of Edan crying in one and then a second later laughing like a mad man. And everyone was the same way. Lots of crowd surfing, I am pretty sure every single DBA employee, roommate crowd surfed that night! You know how they say Sufis' celebrate the life the person who just passed away so their funerals are basically celebrations, same goes for Death By Audio. It really was a beautiful night.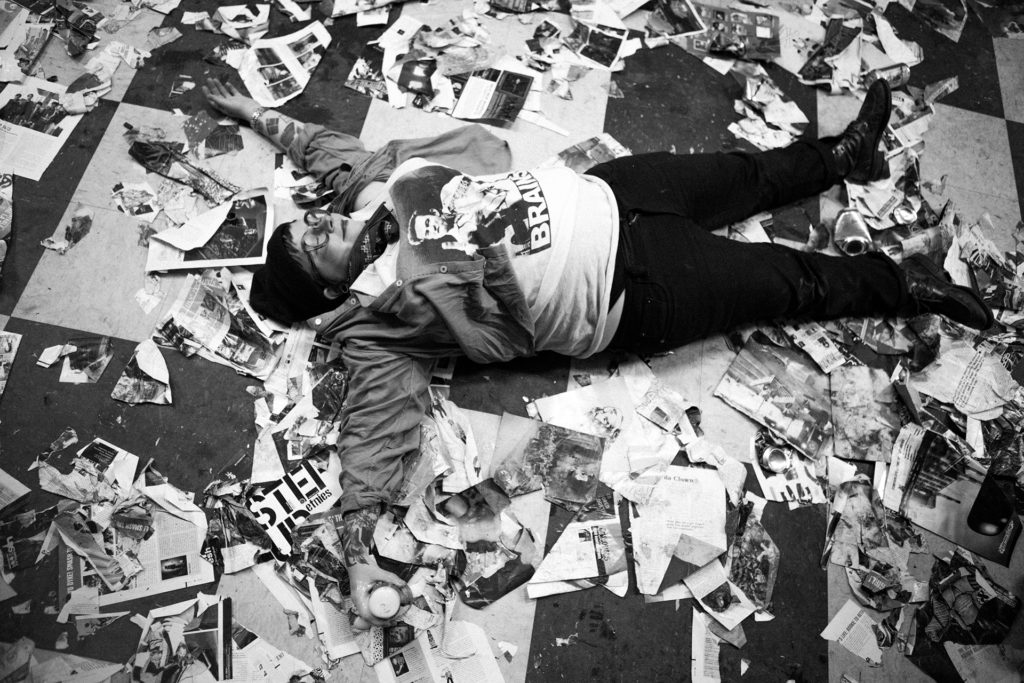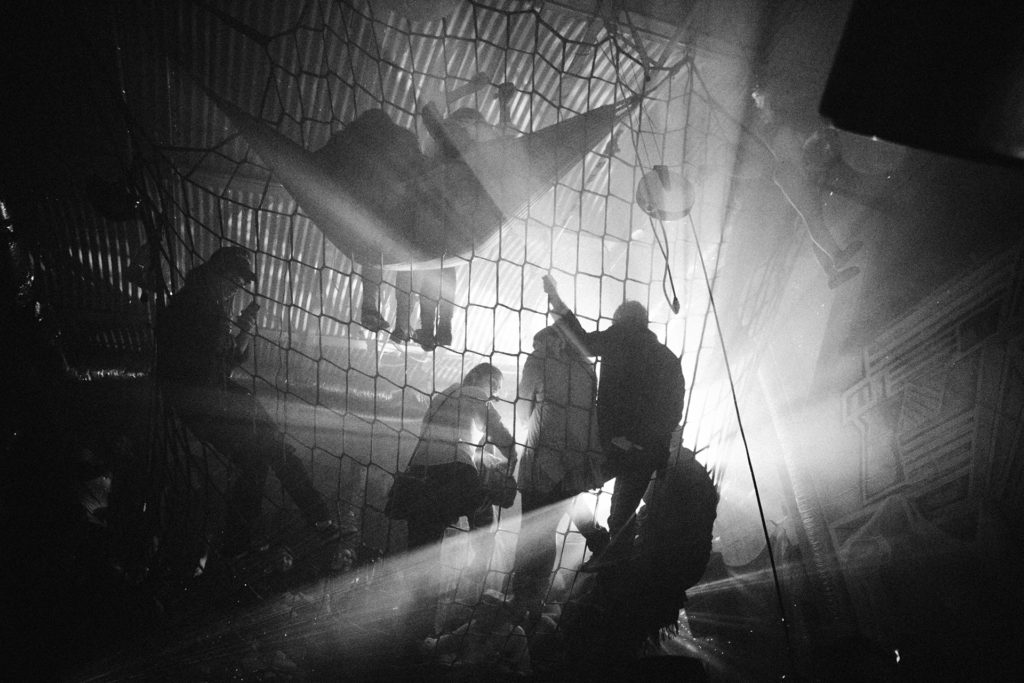 Matt Conboy released his DBA documentary called Goodnight Brooklyn: The Story of Death By Audio this year. Are you guys planning a joint celebration for the book and the movie?
There is also a 3xLP coming out on Famous Class with all the live recordings from the last shows on August 5th. We briefly talked about doing something all together in September but nothing concrete yet.
What are your plans after the book? Is there a new exhibition or a project in the near future?
I hope to focus all my energy on the promotion of the book at the moment and getting it in as many independent bookstores and record stores as possible. I have a book release party planned so far and an other event at rough trade with a panel of speakers that I am psyched about. Other than that nothing for now but I am open to anything and everything really.