Different personages of goats and sheep: Kevin Horan's "CHATTEL"
American photojournalist Kevin Horan's portrait series called CHATTEL depicts some different personages of goats and sheep. We had a chance to talk with Horan about his work and his experiences with animals.
Interview byCem Kayıran & Ekin Sanaç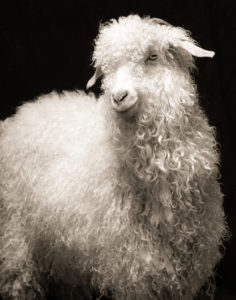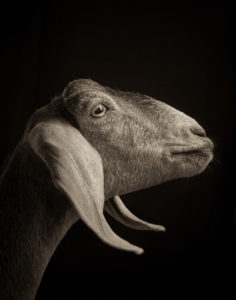 How did you come up with the idea to take the photos inside a studio instead of the nature? What were your initial ideas in shaping the main idea of the series? And what is the main motivation behind using black as the background color?
This all started after I moved from a big city (Chicago) to a small, rural town (on Whidbey Island). The neighbor across the lane from us had about a dozen sheep who would come to the gate whenever we came or went. They thought maybe they be fed, and they were very vocal about it. Their voices were all different: high and low, sweet &and gravelly, soft and loud. I realized that they were all individuals. I wondered if I could make portraits of them that were like people portraits, and showed that they had distinct personalities. The idea was that they would come into the small-town photo studio and ask to have their portraits made to hang on their walls at home. That was the idea, and why I chose the dark background and the 4-point classical studio lighting. In practice, of course, it was very different. I knew from the start that they wouldn't come into my little studio; the studio would have to go to them. The neighbor allowed me to try, but I couldn't get anywhere near these wild sheep with a camera, much less with lighting, stands, cables and backdrop. So I looked around the island, and found a little goat dairy. That farmer was interested in working with me, and her goats were milked twice a day, so they are accustomed to being handled in confined spaces. That's where the first successful pictures were made.
All the photos in the CHATTEL series, depict some sort of personage with each portrait. What were the differences in the practice during the photo shoot when you compare this series to your other works? To Street Census for example, a series of portraits that you worked with people.
Yes, that is the idea! We look at the pictures and find in them real personages. Some people see old relatives of theirs. But I always wonder how much of the goat or sheep's essence I am capturing, and how much the viewer brings to it, led along that path by the way the photographs are made. People ask how I get them to pose like that. But if you have worked with animals, you know that it is more a matter of waiting, and noticing the gestures that work. Once into this project, I also questioned all the human portraiture I have done. How much of that was the very same uncertainty? Does a portrait really let us in to another person, and show who they are? Or does it invite us to make up our own idea? The Street Census was an interesting experiment because we photographed people who just happened by the stage we had built in different parts of the city. We shot usually only two sheets of 8X10 film on each subject. So it was very quick and spontaneous, and we hoped that their true and natural selves would come through in the pictures. The subjects arranged themselves in front of the camera.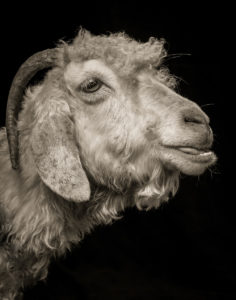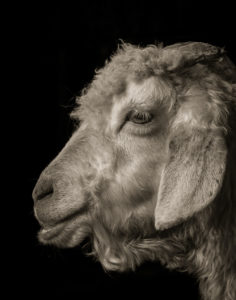 You started CHATTEL series when you moved to Whidbey Island. How did the people react when you ask them to take their goats and sheep's photos?
People are very happy and willing to help–even after they come to realize how much work it is. But sometimes their animals are not. Okay, usually their animals are not. A lot of factors have to come together for this to work: the right subjects, the right handler, the right barn or shed in which to set up. For some animals, there is just no way they're going to sit still for this. Some of the goats I would like to photograph we can't even catch. It is sometimes hard to predict when it will work and when it won't. I loved how Poppy the goat looked, quite old and craggy. We got her on the set, and it was clear she was not interested in the artistic merits of the project. I got about seven frames of her off before we just let her go back to her friends. Afterwards, though, I saw that two of those worked, and they are in the collection.
Were you interested in other aspects and connotations of goats and sheep in culture, history, mythology, etc? Or was it just their glances and gestures?
I don't even know that much about the caprine and ovine worlds. One writer about Judaic theology was moved to comment on them and their relationship to the Torah and the shofar, and I thought that was very interesting. But my interest was more visual, and about the challenge of portraiture itself. I chose these animals because they are in that middle ground where they are not so familiar that we already anthropomorphize them (like dogs, for example); and they have faces that are similar enough to humans to allow us to relate to them. That's why no baby goats: too easy.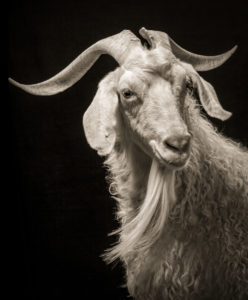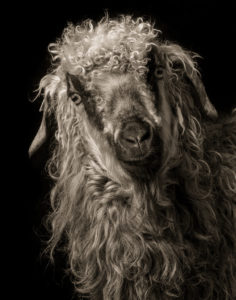 What was the most surprising thing that you learned about the animals during the photo shoots of the CHATTEL series?
That lots of people REALLY love goats.