Trans Am: Back to the roots
The powerful, energetic and always spectacular trio Trans Am released their 11th LP California Hotel in April. We had a chance to talk with Phil Manley of Trans Am about the creation span of the record.
Interview by Cem Kayıran – Illustration by Yağız Yılmaz
It's been more than twenty years since the beginning of Trans Am's journey. When you look back, what are the biggest changes you observe in your musical habits?
That's a really good question. I think when we were getting started, we took more chances. In the early 90's, when we were still finding our sound, we did a lot of experimenting with different things including Casio keyboards and live drum sampling and triggered drums and feedback. I feel like the longer we've played together, the more we've settled into a routine. We don't do quite as much exploring. It's as though we've settled on our sonic palate.
The brand new Trans Am album California Hotel includes songs written in different times during last two years. How did you guys manage to create an integrity throughout the album?
We purposefully split the album into two themes: side A is the louder, more aggressive side and side B is the mellower, more electronic side. We were trying to create two distinct moods. A lot of other Trans Am albums bounce back and forth between moods from song to song. On this record, we tried something new by separating the two moods and I think it works.
The opening track of the album, I Hear Fake Voices, was written, recorded and mixed in five hours! Is that fastest song you guys've finished? How was that experience?
That was a trip! We had a very tenuous framework, and I had a couple riffs that I'd been kicking around for a while – like for a couple years. They were riffs that I couldn't figure out how to fit them into finished songs. We had a hard deadline because Nate and Seb were flying our the next day. Like they say, necessity is the mother of invention! We wrote it and arranged it on the spot. We also performed it live together in the studio with minimal overdubs.
The album's title is an homage to Eagles founder Glenn Frey. Also, you guys mentioned a wide range of musicians as influences, from Led Zeppelin to John Carpenter. As a listener, those influences were noticable when I think about the variety of sounds in your discography. In that sense, would you describe Califronia Hotel as a retrospective record for Trans Am?
Hmmm. Maybe? We were trying to get back to our roots on this record. We recorded some of it to tape, which is how we used to record when we first started making records. We were also going for a live performance vibe, which is also more like how we used to record on the first few records.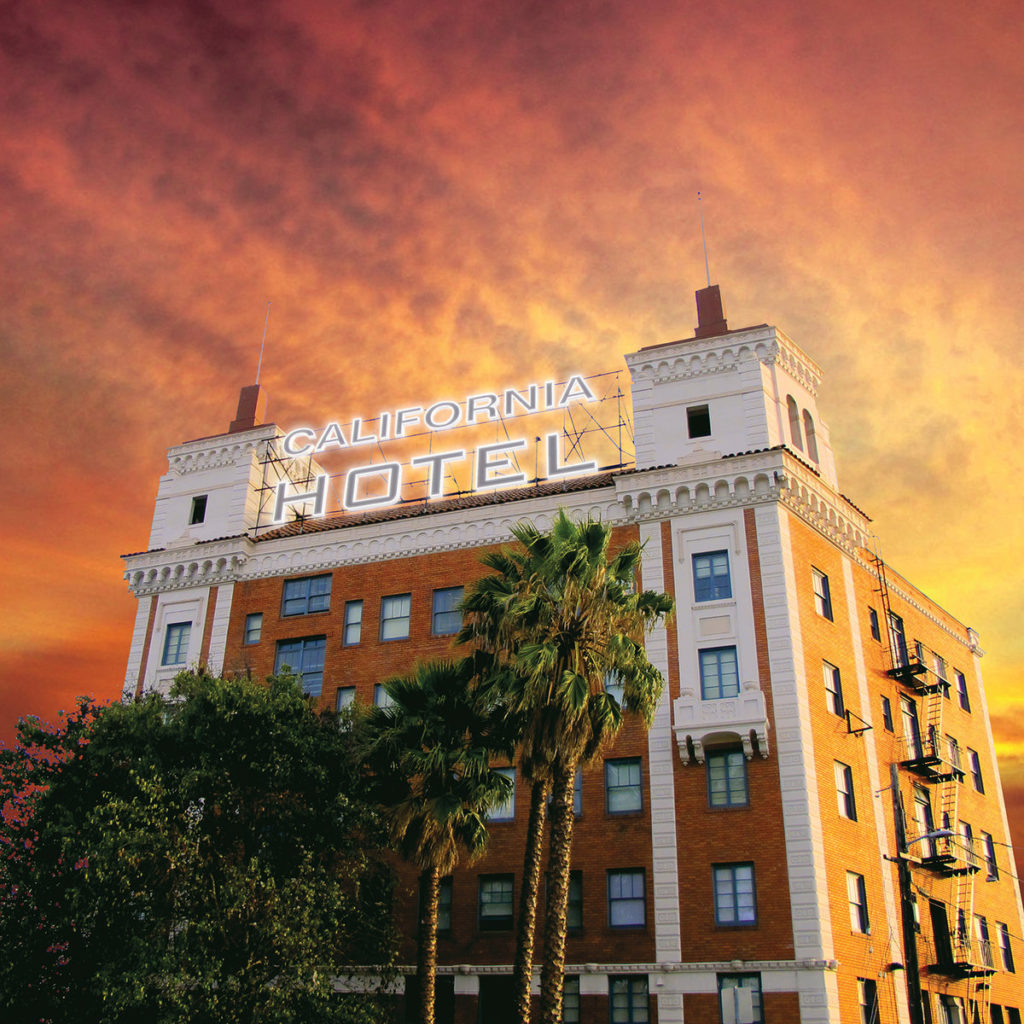 Most of the songs were recorded live in the studio. What was the motivation behind this choice?
Higher impact. The whole is greater than the sum of its parts, and playing together definitely shows this. There's an energy in a live performance that's often lost or at least diluted when a record is assembled piecemeal. We're a good live band and recording with all of us playing at the same time showcases this.
The first and limited press of the album will be out on Record Store Day 2017. As musicians, what are your thoughts about Record Store Day? Do you think that it's a successful trend in today's digital age?
I like Record Store Day as a concept. I grew up going to record stores. They were important places to discover new music and see flyers of who was playing locally. They're a hub of local music scenes. The internet has made it harder for brick and mortar businesses to stay open. It's important to support local record stores and to buy physical media and Record Store Day brings awareness to this idea. Last Record Store Day, I got to see Metallica play at Rasputin Records in Berkeley, California. It was fucking awesome!!!
Thrill Jockey is one of the most inspiring labels around the world. How does it feel to be a part of that family?
It feels great and we feel lucky to have been part of that family for over 20 years! I can't believe we're still able to do what we do and they keep putting out our weird albums.
What's next for Trans Am? Are we going to wait for another three years for another LP?
Possibly longer? Nathan is moving to New Zealand and my wife and I are about to have a second child in May. Seb is busy playing drums in Baroness as well as in his solo project, Publicist.
This interview has been originally published on Bant Mag. No:56 released in April, 2017.