The statement being made with the curation: Jerusalem In My Heart
Radwan Ghazi Moumneh tells the lodestar details and interesting stories behind the Jerusalem In My Heart curated program at Le Guess Who?.
Through its expanding journey, Le Guess Who? has invited lots of creative musicians to curate the festival lineup with them. This year, festival includes special programs curated by Shabazz Palaces, Perfume Genius, James Holden, Grouper, Han Bennink and Jerusalem In My Heart.
Montreal based musician and producer Radwan Ghazi Moumneh has a unique musical understanding and a relation with sounds. He has performed in the festival over the last few years with his breathtaking audio-visual experience Jerusalem In My Heart. And this year, he's among the brains that put together this exciting lineup. Here you can find the lodestar details and interesting stories behind the curation by Jerusalem In My Heart, as written by Jerusalem In My Heart.
Text by Radwan Ghazi Moumneh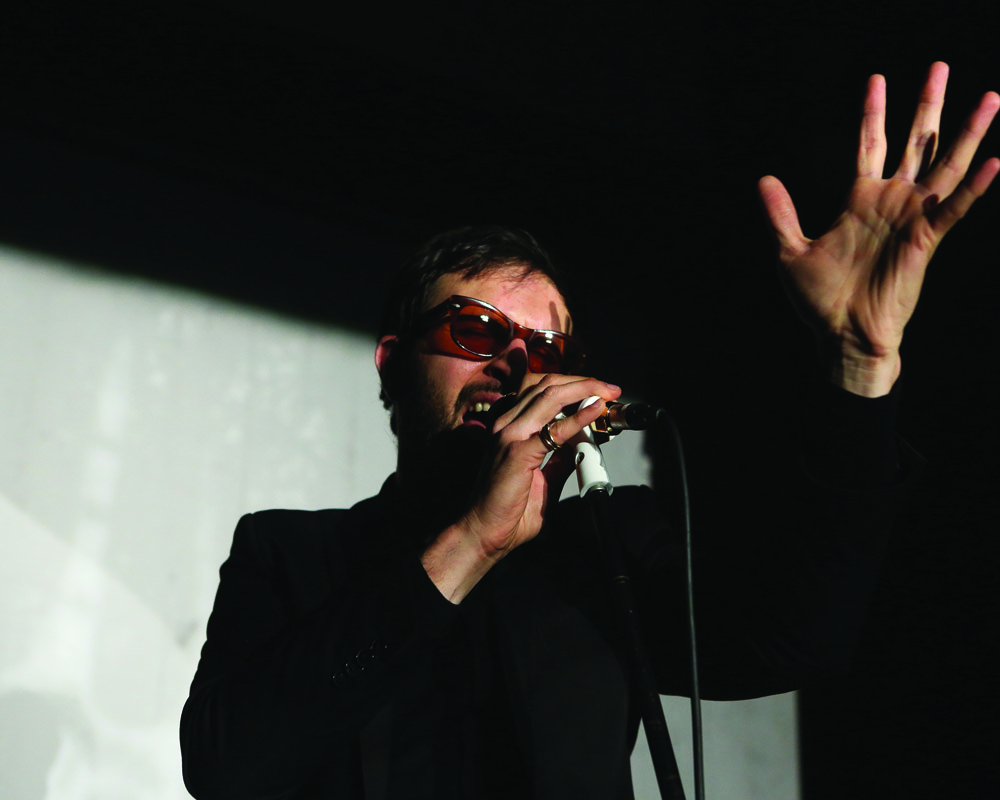 Music is my everything. It has the power to make, the power to break, the power change and the power to destroy, it has the power to inspire and the power to dishearten, and it has the power to empower, and the power to, well just that, empower.
When Le Guess Who? approached me regarding the co-curation of the 2017 edition of the festival, I was overwhelmed, to say the least. I am a working musician, and tour quite a bit, and have so for the past 15-20 years or so and am constantly at festivals, be they programmed or curated. Naturally I always have an opinion of my experience and a subjective impression of the programming. It is not something I take lightly, as I feel there is such a huge statement being made in the choice of any given selection. I felt like for myself, I wanted my statement to be one that can touch on many aspects of what troubles me in what I see of the world. I don't want to over intellectualize this in any way, but want to be truly honest with myself as to why I asked these artists to perform under my invitation.
Alanis Obomsawin and Linda Sharrock hold a truly special place in my heart. They both represent women who have dedicated their careers to their task(s) and have, a very long time ago, attained a level of 'completion' in their work that simply makes me feel like I need to be working so much harder at honing my art than I am. They both are women, who were born and lived in what is an undeniably hostile environment that simply put, hated them for 'what' they are. Their identities and the politics that come with that were only compounded with the fact that they both are women, artists, strong, vocal and fucking talented. Achievers. Do-ers. Not artists who will back down from a fight over their work. I just raised a glass of champagne with Alanis Obomsawin at her home to celebrate her 85th birthday, on the eve of the release of her 50th, yes 50th film. Alanis Obomsawin represents the voice of the voiceless, an Abenaki artist whose work is so crucial in shedding a light on the plight of the Aboriginal population of Canada, and the United States. Her work is made with nothing short of pure love, heart and a generosity that extends so far and wide. She is one of the most inspiring people I have the fortune to meet, and I am over the moon that she agreed to revisit her 80's masterpiece of an album, Bush Lady, at this year's edition of the festival. She has abandoned public performance for a long time, focusing her energy on her unbelievable film career. It is a huge moment for myself that this is happening and that I have been put in charge of assembling and directing her band, but this is nothing out of the ordinary for a woman who is used to moving mountains. This show will be a rare opportunity and is not to be missed.
MY RELATIONSHIP TO LINDA SHARROCK IS ONE OF A MASSIVE FAN… HER FORWARD VISION IS A BIG INSPIRATION AND I SELFISHLY AM SO ELATED THAT I WILL GET TO MEET HER.
My relationship to Linda Sharrock is one of a massive fan. I, like most people, discovered her on the mind altering albums Black Woman and Paradise, both made with her late husband. My first listening experience with both of these albums was a real revelation, and an immediate 'fall in love' sentiment with a voice that said so much while saying no words. I was instantly drawn to her, and have followed her career since. I want to make clear that her performing is not a nostalgia trip of the past or an obsession with 60's revivalist culture. Linda has been steadily recording and performing since then and has continuously released albums that continue to inspire and impress me, right up to her last album, the pummeling, now sold out, triple vinyl album (In) The Abyssity Of The Grounds Gods, released in 2016. Her forward vision is a big inspiration and I selfishly am so elated that I will get to meet her.
Moor Mother's music was a mystery to me despite having preordered her 2016 Fetish Bones LP before hearing a note of it. I was drawn to Camae's online short videos she'd post and the audio and spoken word that accompanied these short vignettes, so much so that I bought the LP without knowing anything about it/her. The album really caught my attention, but it wasn't until I experienced her live that I truly was moved. A show that is so visceral and emotional, that one cannot help but feel the valleys and mountains of feelings that she asks of you to feel during her performance. Absolutely beautiful.
Matana Roberts shares her deep emotional space with her performances. Her Coin Coin series of albums is a very engaging sonic voyage that touches many emotions for me. But, it's not until you experience a Matana Roberts live performance that you fully understand the propositions this person is putting forth to her audience. She is a very special performer.
Although from two very different worlds, Klein and Dedekind Cut share to me an electronic sample based aesthetic. Klein's mesmerizing album Only from 2016 was a really curious gem for me. I am not even too sure how I have that record, but it was clearly meant for me to hear it, as I was taken in from the moment I listened to it. Really excited about what is to come from her next.
Dedekind Cut's $uccessor LP from 2016 is another standout from last year. Fred Warmsley's music has been on my radar for a little while now and he consistently has been releasing really great records. His American Zen EP from this year is an engaging semi-minimalist electronic opus. I haven't seen him perform live, so I'm quiet excited to see him play.
The inclusion of Abdel Karim Shaar, Farida Mohammad Ali, Nadah El Shazly and Toukadime highlights different aspects of contemporary Arabic musical culture and its inclusion in Le Guess Who? is one that makes me very proud. All four artists come from very different backgrounds and countries, and all couldn't be more different in their practice and art. Abdel Karim Shaar has been an icon of the Lebanese music scene for a few decades, and his dedication to the classic oriental tarab form is undeniable. His charisma on stage and heartfelt delivery touches me every single time that I have seen him perform. He has mastered the art of taking an audience on a beautiful and memorable journey. The cherry on the cake is that he will be joined by his incredibly talented daughter, Ranine Shaar singing along his side at his performance. Another must at the festival. Be prepared for the journey!
I bought a Farida CD (remember those tings?) at a second hand music shop 12 years ago. The CD had the picture of a woman on the cover, and it was simply titled Mawal & Maqamat Iraqi. Not only was the title grammatically odd, but the artwork and layout were so odd, that I decided to buy it. I was needless to say quite impressed by the album. She has a commanding voice backed by a band with many an electronic instruments. The album was a real oddball mix of elements and my ears were confused, but quite impressed. She has released many albums since, and has focused the craft on the magnificent and glorious repertoire of Iraqi maqam, and her live performance is one that is mesmerizing, alongside her very talented band. Farida Mohammad Ali has established herself as a voice bridging an old tradition to a new audience.
Nadah El Shazly is an Egyptian artist based out of Cairo. Her debut album just came out in September of this year, and she to me is a voice of a new generation of Arab artists daring to step outside the boundaries of the norm to present a 'new' Arabic music. Her vocal stylization and technique blew me away the first time I saw her perform, and she continues to push the envelope in my opinion.
My obsession with Toukadime's podcast dates to a few years back. I would religiously NOT listen to their episodes in order to save them for my tours, as their podcast meant that I could spend a lot of time on the road listening, learning and analyzing the music that Krimau & Bachir play. Their dedication to 45's from North Africa is so vast, and their playlists span hours upon hours of simply mind blowing hits from the Arab world. I am so happy that they will DJ at the festival, and hard to imagine that they will not make the whole room shake.
I first heard Oiseaux-Tempête perform, of all places in Beirut. They had come to Lebanon in what one would normally call a European band's wanting to 'experience' something foreign to them, with the hopes of taking in some of that 'flavour'. These guys however did not do that. They decided to get completely absorbed by the surrounding environment, and include so many of Beirut's amazing musicians on their recordings, collaborating with them in the true sense of the word. The result, an album from this year titled Al-An or Now. Now, in the sense that this is what they lived through in their month or so long residency in Beirut. A very impressive and touching document of their experience and collaboration not only with Lebanese artists, but with a city itself.
Charles-André Coderre, is my better half in Jerusalem In My Heart. His work has since day one, never seized to impress me, and I am always excited with any and all ideas he brings to the table. His vision for what 'film' as not only a format, but a discipline is, is one that I find full of the re-imagination of the image and the emotion it carries. He will be premiering a new film at the festival titled Granular Shadow.