Track by track: Jane Weaver's "Modern Kosmology"
Jane Weaver, who will be performing on Sunday, 12 November at Le Guess Who?, has struck masses with admiration with her latest Modern Kosmology released earlier this year via Fire Records. We asked Weaver 10 questions, directly influenced by each track on the psyche-pop struck record.
Interview by Ekin Sanaç – Illustration by Ethem Onur Bilgiç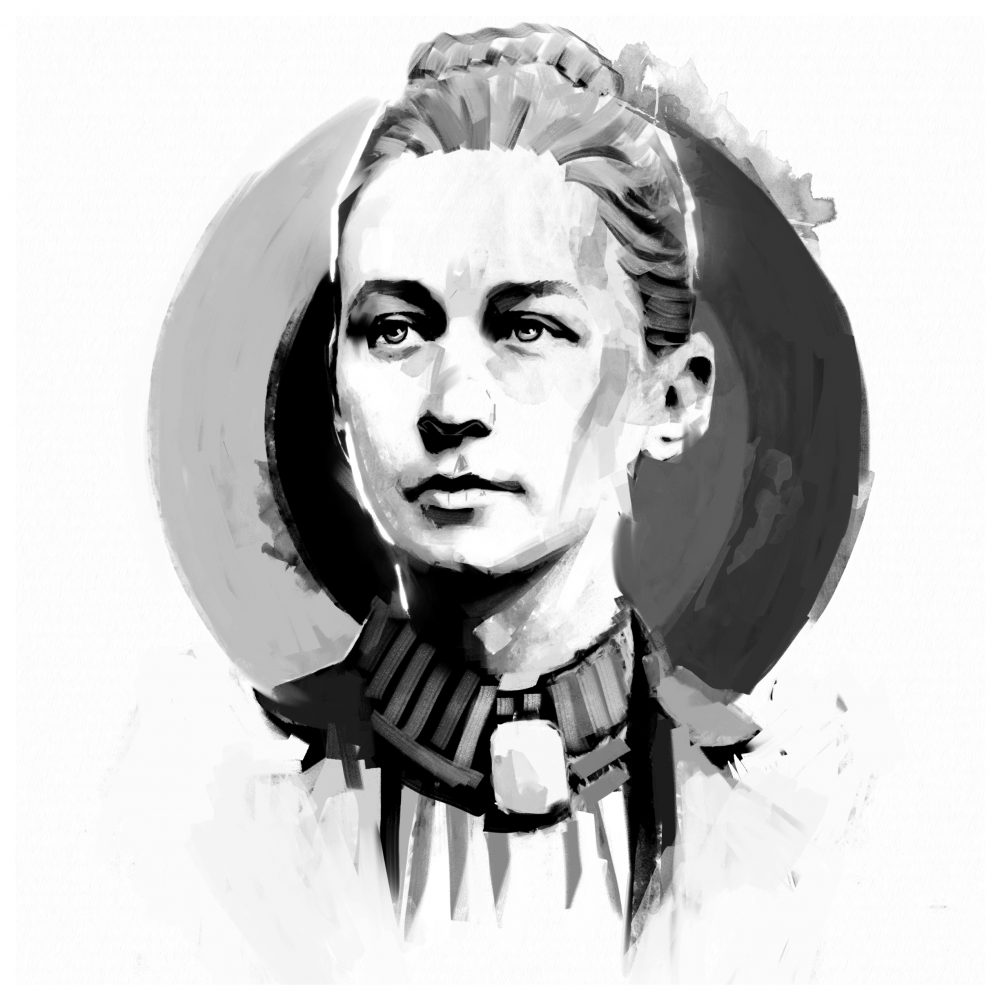 "H_A_K"
How did you discover Hilma Af Klint's work? What hit you in her story most in the beginning? And how did the opening track of the album get to be named after her?
I saw an exhibition at The Tate in Liverpool about feminist avant-garde art and then while continuing and exploring certain artists, I came across Hilma's art. Her story really captivated me, she used seances and spiritualism to channel energy for her work. I was at a creative crossroads myself and looking at her process helped open my mind really, not that I tried to replicate or have seances, but I tried to draw upon things like the energy of nature, the magnetism of the sea, etc. It also helped me visualise songs, so "H>A>K" is dedicated to her. As soon as I started on the Mini Moog, I knew it was the opening track.
"Did you see butterflies?"
What happens when the destination is the sun?
I've been trying to find another Map, to this love, where the destinations still intact, to the sun.
Ah, the question of Love, we get lost now and again, we gravitate towards the energy of the sun and are drawn in like magnets but then we are burnt… We're all fragile.
"Modern Kosmology"
Can you describe the setting, the moment or the feeling when the "life changing" decision to pick "Modern Kosmology" as the title for the record and this song hit you?
We bought a Philicorda organ from a charity shop and this was the first song I wrote on it. It has a nice heavy tone to it, I wrote the vocal melody pretty quickly, I was reading about astronomy, but imagining myself as a warrior. In battle, but drawing energy and power from other sources. Maybe I'm subconsciously taking from the film Highlander? I wanted the title to sound like a society or a school of study. It was natural that it was the track.

"Slow Motion"
If there were a place you went to when you disappeared from the public eye, where would it be? How would it be?
Wales or France, maybe both. I need a view though, a studio and lots of animals to look at. Every artist wants a creative space to work in, to be surrounded by keyboards and paint. I like simplicity, I try not to use my phone so much. Sometimes it's good to not panic and enjoy feeling unconnected, maybe I'm nostalgic about the past.
"Loops In The Secret Society"
What does it take to be a member of this secret society and what activities and actions are they into?
Hilma Af Klint's secret society was a group of five women artists 'de fem' who would meet. Their work would have been deemed as unusual for the time, as it wasn't traditional. They were redefining art and creating their own secret movement inspired by mysticism and new science. How wonderful to be part of such a group. Seances, communicating with a higher being or a spirit guide were very popular in the 1900's. Hilma received messages and codes and used them in her work. She then neatly documented these symbols recording them in books.
"The Architect"
Can you describe the perfect environment you would want to perform this track to the crowd (other than a venue)? It can be a fictional space or a memory you visit back in time.
An abandoned futuristic Japanese theme park from the 1980's would be ideal. The now dystopian backdrop of a once happy place echoing with the ghosts of children laughter, now covered in vines and fog… Perfect.
"The Lightning Back"
What is the one thing that made you feel like you cross to a new dimension in life lately?
I accidentally mixed travel sickness pills (the instructions were in French) and red wine recently whilst on a boat journey. It certainly felt like a different dimension, one where your legs feel like they can't feel the stairs and my head was all fuzzy wuzzy. The next day I felt really clear minded like I'd achieved something. So maybe I did actually go somewhere? (Don't try this at home.)
"Valley"
If you were to perform this song with someone, who would you invite? What would they do? Can be anybody from now or history.
Serge Gainsbourg narrating the verses and strings by Jean Claude Vannier, in fact all the session musicians and choir from L'histoire de Melody Nelson and of course Jane B and Jane Wea.
"Ravenspoint"
You have described "Ravenspoint" as a road you used to go to in Angelsey, when you were a child and that there was a haunted house there. Can you describe your memories and phantasies about this haunted house a little? What did you imagine to be in there? Or have you ever tried to get in?
I tried to get in last year but there was a film crew there and security, so I had to just sit in the cove by the house and pretend I had my own private beach. That particular house is so dramatic looking against the backdrop of the sunset, the bricks look almost black. When I was younger, there was no way I'd ever walk past it. It felt like something from Hammer House of Horror. Next time I go back, I'm going to definitely get in somehow. The house seems occupied now, so I might have to work my charm.
"I Wish"
Do you have any superstitions? Do you have any rituals in terms of making a wish?
I am superstitious, I salute Magpies and stuff, and I count them too. I like doing it. I went camping in France recently. At night the sky was so clear, I saw a shooting star and made a wish. Superstitions are such strong things in folklore etc. When you consider the Pendle witch trials in 1612 in the UK, if you read about it, it's incredibly sad. A lot of women sadly murdered unnecessarily because of the hysteria of superstition.
Jane Weaver performs at Le Guess Who? on Sunday, 12 November, together with Perfume Genius, Julianna Barwick, Linda Sharrock, Sun Ra Arkestra, Black Lips, Yves Tumor and many more. Full line-up and tickets can be found at the festival website.