The Black Power Tarot: Reimagined Archetypes visit Le Guess Who? 2017
A chat with King Khan, whose Black Power Tarot project will be exhibited at Le Guess Who?, on tarot, inspirations behind the unique set and working with Michael James Eaton and Alejandro Jodorowsky.
Interview by Yetkin Nural
Back in 2015, musician, producer, writer and artist Arish Ahmad Khan (aka King Khan) has created The Black Power Tarot together with Game of Thrones designer Michael James Eaton under the spiritual guidance of legendary surrealist filmmaker Alejandro Jodorowksy.
The project was about re-imagining the tarot archetypes, that are mostly represented through white figures, with iconic figures from African American history; mostly musicians but also magicians, comedians, authors and activists, who were Chosen by Khan, created by Eaton and approved by Jodorowsky.
During Le Guess Who? 2017 edition, The Black Power Tarot cards will be exhibited in maximum scale and King Khan will be doing readings for the festival visitors. We asked King Khan to recall the process of making the cards and here is what he had to say…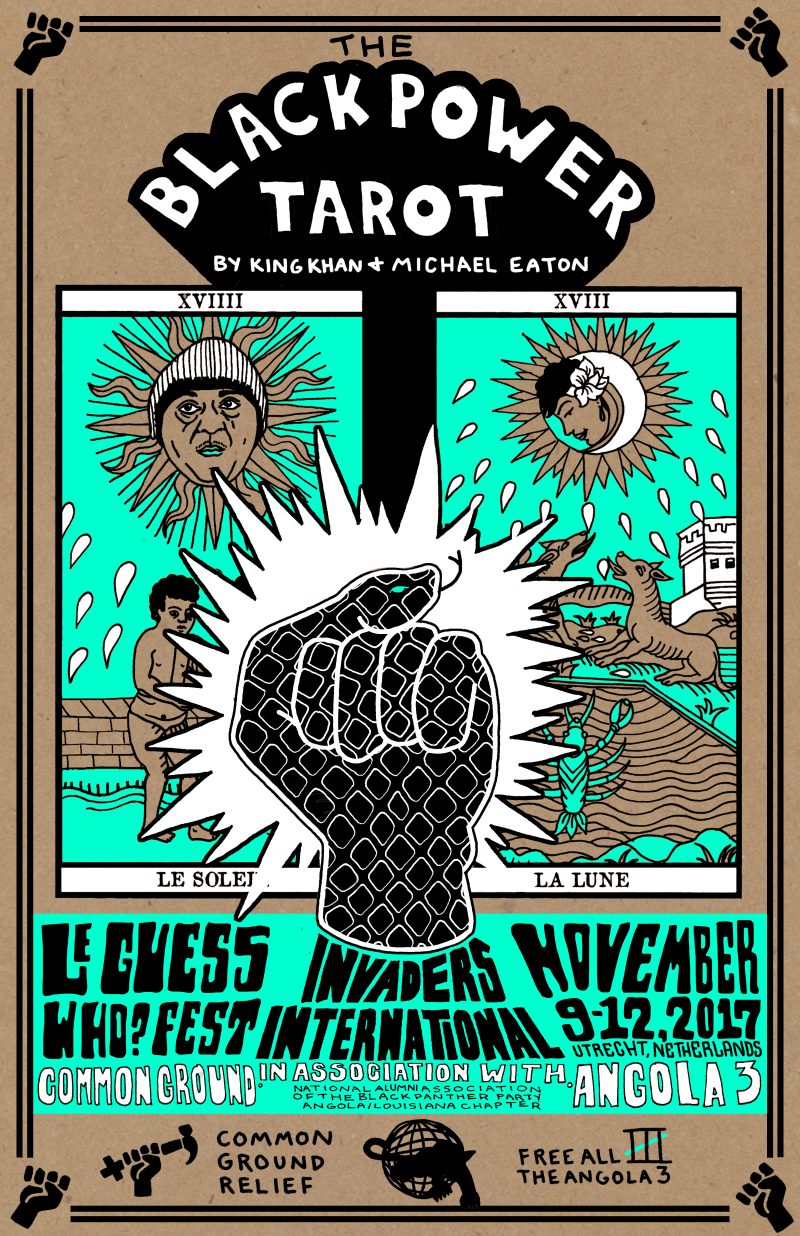 Can you tell us a bit about how you got interested in tarot cards and readings?
In 2002, I met Sophie Crumb at a small music festival down in the south of France and asked her if she had ever met Jodorowsky. She told me she had been to one of his tarot readings in Paris. That same day I was asked to be a part of an art show in Berlin and I told them that I wished to read tarot, even though I had no clue how to read them. So a few weeks later I showed up at the art exposition, borrowed a deck of Aleistar Crowley cards in German and made up a way to read them. Strangely enough, many people said that I was very good at reading them and it was where my obsession began.
Do you have a favorite card (or cards)? If there are, can you tell us their general interpretation?
I love the hanged man, because it is often the most feared and misinterpreted card. The hanged man in the card has purposely decided to hang upside down, so he may see the world in a completely different way than everyone else. He is also not concerned with winning or losing; he cares more about simply hanging and swaying in the wind. The card represents a divine kind of meditation, which I find to be very powerful.
"I feel that music was a form of illumination as well as an Empowerment. The musicians I chose reached beyond their limits, because music brought them to a higher plane."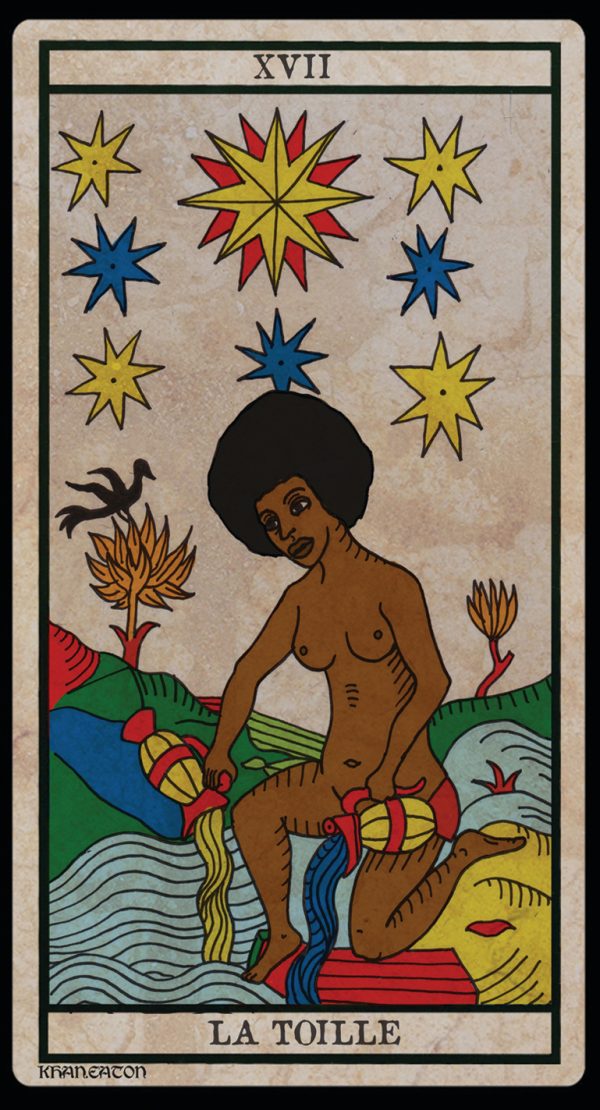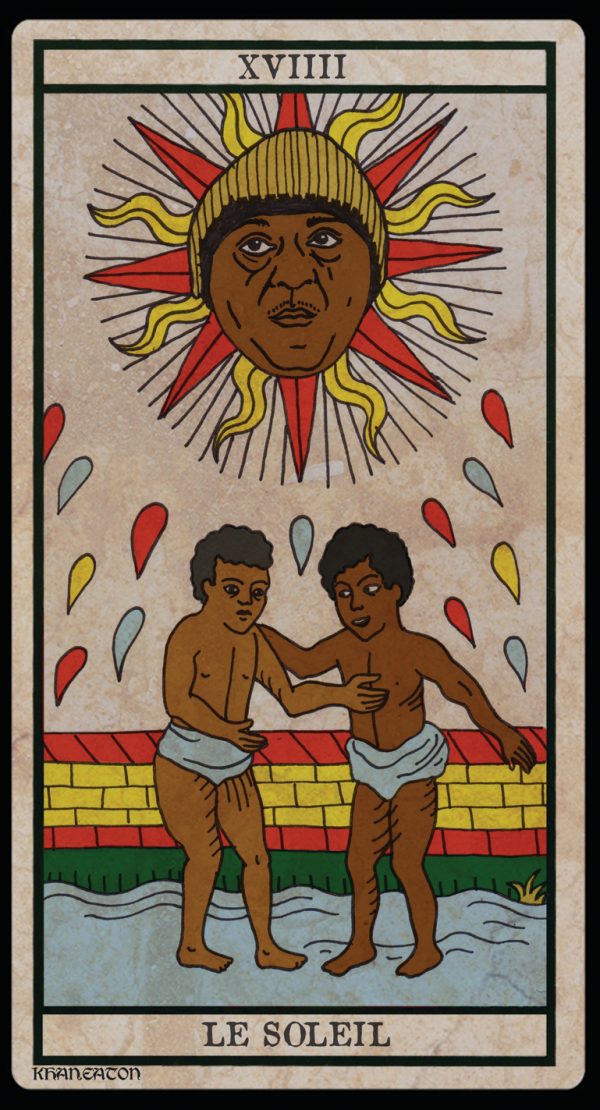 I know that The Invaders documentary about civil rights movement played an important role in the The Black Power Tarot. How did the documentary affect you? Can you tell us your motivations and inspirations for creating the set?
I was immersed in watching all this amazing footage from Memphis, mostly a lot of which I had never seen before, lots of images and shots from the burial of Dr. Martin Luther King Jr. It was all very powerful and one night I had a dream where I met Alejandro Jodorowsky in a strange office building and every time I approached him I would be interrupted by different women, until finally I approached him and he looked at me and asked, "Show me a card that is weird". I gave him a puzzled look and then reached into my pocket and pulled out a very strange looking card, we both stared at it and then agreed that is was weird. Then he insisted on falling asleep and curled up into my arms and fell asleep on my lap. When I woke up I felt I knew I had to make a new deck of tarot, inspired by the Marseilles deck, the path of illumination and black power.
Then how did A. Jodorowsky and M.J. Eaton get involved? What was the collaboration between you like?
I began finding the right people to represent each of the archetypes, after a year of really trying to figure out who belonged where, I was approached by Michael Eaton, an Irish artist, who wanted to collaborate with me. He sent me some of his work for the Game of Thrones, where he made some mystical maps and dragon paintings and it suddenly hit me that I had found my spiritual warrior to make the black power tarot with.
When Michael would finish up the cards, I sent each drawing to Jodorowsky to be approved by him. Jodo loved the idea and gave us his blessings. We were both very honored to be considered his spiritual warriors.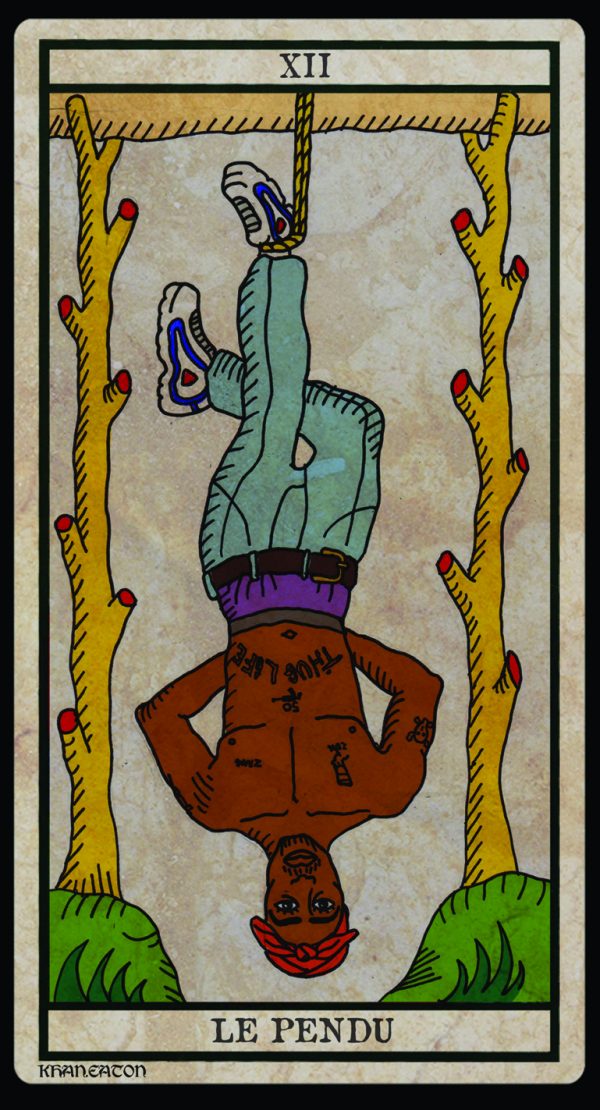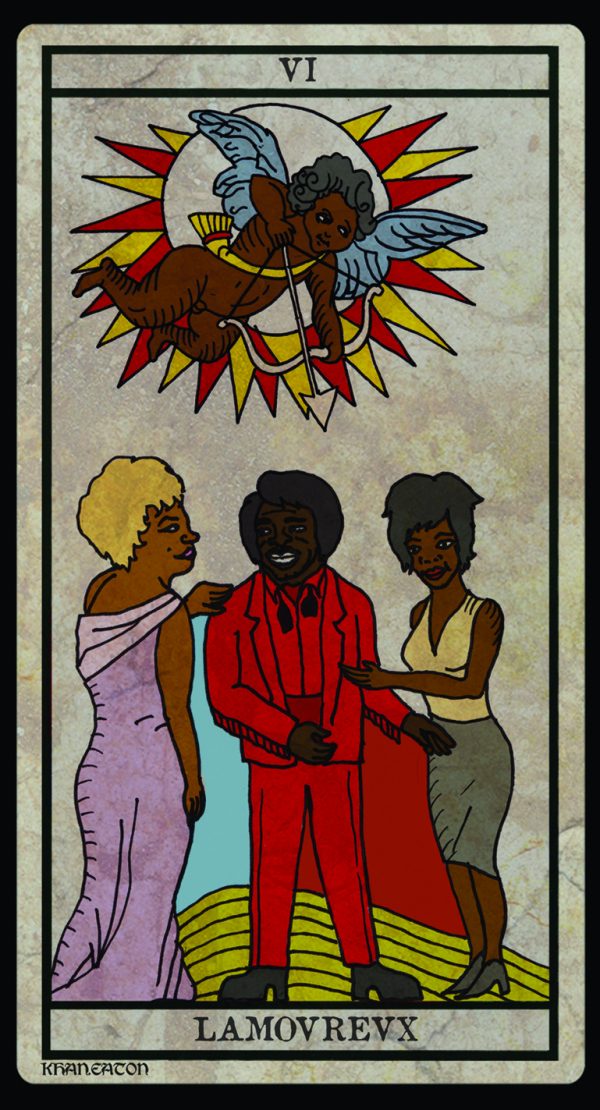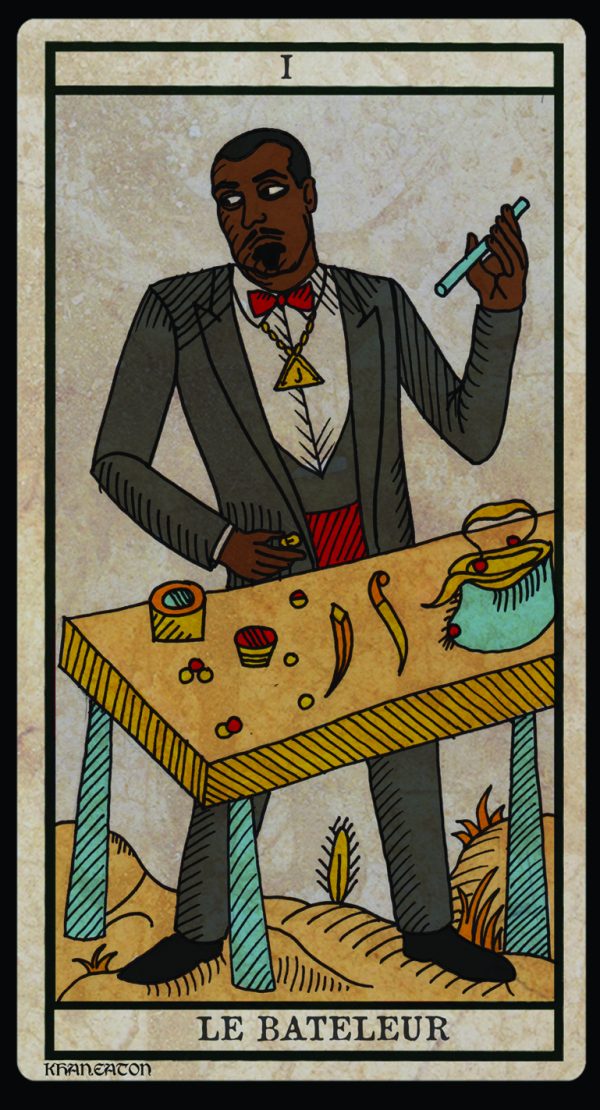 How did you match the cards with the names? Any cards that proved challenging?
It proved challenging because Jodo insisted that I do everything without my ego, so I chose the right people for the cards based on what they did and not my love for them. The people were all chosen because I felt that they followed a true path of enlightenment at a time where African Americans were treated so inhumanely by society. These people broke through and achieved a true understanding of the world where they were punished simply for being black.
Are there any names that were left out just because of the limited number of cards?
No, but some cards I had to change quite a bit, like the first card of Strength featured Tina Turner holding Ike Turners head open. Jodo immediately said that it must be a lion in the image, because the card shows a woman who is letting her animal speak from inside, as well as taking a risk by sticking her head in its mouth. So we changed Ike into the Lion of Judah.
Another time Jodo misunderstood and thought I put myself in the cards as the world, he told me that my ego was too big and that I couldn't put myself in the cards, and then I told him that it wasn't me in the world card. It was Sister Rosetta Tharpe, one of the greatest gospel singers and guitarists in the world, and then he approved it.
19 out of 22 cards show musicians. Was there a specific reasoning on your part to pick the names heavily from musicians and not from other figures, that were significant in the civil rights struggle?
I feel that music was a form of illumination as well as an Empowerment. The musicians I chose reached beyond their limits, because music brought them to a higher plane.
What else are you working on lately? Any upcoming projects we should be on the lookout for?
I have just started my own record label called Khannibalism. I have released three LPs and three singles on it thus far. I am very proud of the William S. Burroughs album I co-produced with Hal Willner called Let Me Hang You, as well as my own new solo record called Murderburgers and my seventeen year-old daughter Saba Lou's first album entitled Planet Enigma.