Remaking Tradition with Murat Ertel and Friends
On September 26, Red Bull Music Festival Istanbul kicks off with a night of duets. The Round Robin event, based in improvisation and led by Murat Ertel brings together a series of names that have struck different chords in their music, creating brand-new sounds with their instruments. The event in which each musician will have the chance to pair up with one another, will gather together artists that have played with our ideas of rhythm, melody, genre and traditional sounds and structures throughout their careers. Before this musical dialogue takes place, we take a look at their stories.
Words by Leyla Aksu
MURAT ERTEL
"We have fun with the saz; we revolt with the saz"
A name that has become synonymous with experimental music in Turkey, starting with the improvisational ZeN, host Murat Ertel's band BaBa ZuLa has been leading the charge of İstanbul psychedelia, with their performances, film scores and collaborations for more than 20 years. Claiming a space for himself between the dualities of east and west, modern and traditional, analogue and digital, he is also one of the first musicians to adopt the theremin in Turkey, bringing it to danceable prominence. Alongside his colourful stage costumes, the thing he is most associated with, however, is the electric saz. "The saz has a very nice history," he says. "It was never played in palaces; it was an instrument that was always contrarian, always revolutionary. It was very appealing to me, because it was an instrument that was always on the side of the people, the voice of the people."
Explaining that he lost some of his audience when he first picked up the saz, and that it has often been a belittled, underestimated club instrument, Ertel says that he wants to counter this conservatism by giving it "the respect it deserves and [doing] things that have not been done before." Speaking of how he wishes to widen the instrument's possibilities with Roket – his custom-made, three-stringed saz – he adds, "I need to bring a new approach to the saz with my own know-how. This is how instruments and musicians must encounter one another."
CAHİT BERKAY
"There is no string instrument I can't get a sound out of after observing and trying it out a bit"
Embarking on his professional music career with the Selçuk Alagöz Orchestra, Cahit Berkay is an artist who drew a whole new course for music in Turkey with the legendary Moğollar. Composing for hundreds of films and TV shows and known for his political stances as well as his melodies, last year Berkay celebrated his 50th year with the band that paved the way for Anadolu pop, bringing western sounds and structures together with our region's instruments. After all these experiences, he says, "We must be unique and authentic, know our own culture, and make music protecting it."
In elementary school Berkay first started playing the mandolin. Afterwards, he says, "My dream was the accordion, but I changed my mind when I saw the guitar." After that, it was the electric guitar, rebab, bağlama, cura and the bowed lute. "I learned how to play the bağlama while talking to Orhan Gencebay backstage," he says. "When I heard the bowed lute played by Fahrettin Çimenli, I was captivated. He taught me the fundamental approaches and how to draw a bow. I developed my technique on both instruments enough to play them on stage… I found an oar in Yenikapı, took it to Cümbüş, and got my first lute made. I still use that instrument."
OKAY TEMİZ
"I search for sounds rarely found in the universe within the instruments I make"
Making his mark in music with the instruments he has developed and the bands he has founded, percussionist, composer, educator and jazz musician Okay Temiz has melted traditional barriers and genre definitions. Gravitating towards jazz in contrast to his classical training and moulding western jazz structures with Turkish music, he has brought different cultures together through his rhythmic improvisations and diverse range of projects. These include Oriental Wind, which he has helmed since 1974. "I search for sounds rarely found in the universe within the instruments I make," says Temiz. He has bridged instruments of various traditions, such as the berimbau, dumbuka, zurna and musette with his own inventions, such as the copper drums, artemiz, water telephone and yayza.
After visiting the pyramids in Cairo and likening them to musical instruments, Temiz decided to make his "magic Pyramid." He made his first berimbau with Luis Agudo out of a poplar branch from the front of his house, adding microphones and pedals to the instrument in subsequent years to make it electric. "I sometimes grip the berimbau between my chin and shoulder almost like a violinist, so that both of my hands are free," he says. "In this way, I can slide the coin up and down the string to get a lot more pitches. I am trying to feel like the sound is from the waves of the ocean."
DR DAS
"Electric bass is my favorited Indian musical instrument"
A founding member of Asian Dub Foundation – a sweeping musical force in their songs and their philosophy for more than 20 years – Dr Das continues to open genre doors and expand ideas of tradition. Exposing the socio-political contexts inherent in dub bass, he overturns the structures of western pop music in his solo work: "The bassline also offers a low-frequency melody that carries the key emotional content," he says. "The challenge in being a dub bassist, though, is that you've got to do all of that using as few notes as possible. However, your brief is the same as it is for any other instrument – ensuring how you feel about the world is reflected back into your playing."
Dr Das has said he has found an increasingly minimal and disciplined path in his playing. He began in music by learning to play the Indian harmonium from his aunt, after which he picked up the tabla. Ha adds, "I realised dub has some connections to Indian classical music in terms of its cyclical nature and the emphasis of music being in one mode, rather than the emphasis being on chords. When I realized that what dub bass was doing was basically playing a cyclical melody, I thought, 'Wow, this is a wicked instrument.'"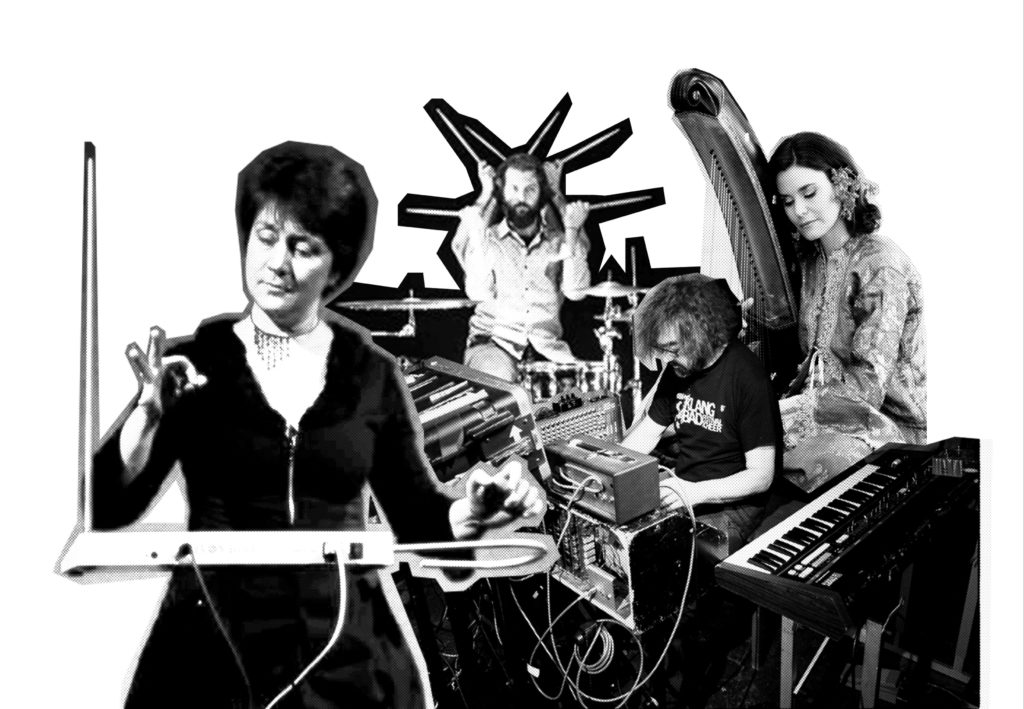 ŞİRİN PANCAROĞLU
"It seemed so striking to me, like something out a fairy tale"
Reviving various traditions and approaching music as a universal language, musician, academic, educator and one of Turkey's foremost harpists, Şirin Pancaroğlu blends styles beyond the classical discipline, incorporating avant-garde, improvisational and traditional Turkish music in her multi-disciplinary performances. "When I am playing music, you listen to me," she says. "Maybe we do not have the same opinion, but we find a common language. Music is a serious way of communication."
Adding that the harp is one of the few instruments without a homeland, dating back, as it does, to hunter-gatherer societies, Pancaroğlu was surprised by her first encounter with the instrument, observing that it was standing up and had to be supported to be played. She has also been working with the çeng, a forgotten Ottoman tradition, since 2007. "Over the last 10 years, I remade this lost instrument," she says. "There was no example, so I looked at old photos. I am living in this region and want to protect this instrument."
GÖKÇE GÜRÇAY
"A body can be an instrument"
Through his body music workshops, Anatolian blues project Eis Ten Polin, the Çıplak Ayaklar Dance Company, KEKEÇA, and various other projects, Gökçe Gürçay presents percussion through an ever-widening framework. All this in addition to the group Gevende's continuing stream of experimental, improvisational, genre-bending music. Picking up the drums after encountering Metallica at the age of 13, he describes coming together with Gevende as finding "a field in which everything I discovered could flow easily and freely."
While increasingly shifting his focus to dance, movement, engagement and the interactive possibilities of music on the one hand, ever since his introduction to body music – a form in which your instrument is always with you – the body's possibility for sound has also expanded for him. "It is an endless domain," he says, "especially when the voice comes into it as well… I am pursuing it as a gradually widening sphere."
HANS JOACHIM IRMLER
"Where is the point from melody to noise?"
A founding member of Faust, one of the bands to shape the course of culture in post-war Germany via the medium of Krautrock, Hans Joachim Irmler has never left his penchant for experimentation or technology behind. He remains as far away from a classical notion of his instrument as possible and has maintained a consistent disregard for pop music ever since Faust first built their Wümme studio and dragged their mysterious black boxes and building machinery across a stage. "We are interested to react to the very moment." He says of the band's approach. "Of course, we do bring material; we know we have a few possibilities, but we basically react to what's happening now."
Irmler's musical journey began in his early teens, building his own organ, since he was not able to buy one. "I got a book in my hand [about] how to build an electronic keyboard," he remembers. "The system was working by tubes. When I got this book in about '67, the transistor had come out… I thought, 'If I can really replace the tubes with transistors, it would become cool.' So, I built it, and I'm still playing it."
LYDIA KAVINA
"When I play the theremin, I'm actually swimming in the sounds"
One of the few contemporary masters of the theremin, the most distinctive and unearthly instrument in electronic music, Lydia Kavina began her training at the age of nine with the instrument's inventor Léon Theremin. She continues to be one of the primary names to bring this unique sound, a melding of science and music, to new audiences, expand its repertoire, and present it in conjunction with different art forms. Kavina says that the theremin was the first electronic sound she ever heard and says of her instrument, "The original idea of the theremin was that music can be controlled – that anything can be controlled by motions in the air."
While methods are still developing, Kavina has noted that, more than any other musical instrument, playing the theremin is like singing, that you cannot produce sounds without imagination or intuition. "To me, the greatest satisfaction comes from discovering still another role for the theremin in each new piece of music," she says. "It is not only [the] mysterious playing technique that fascinates me, but the wondrous, expressive sound, the magical colour, the limitless range and diversity…"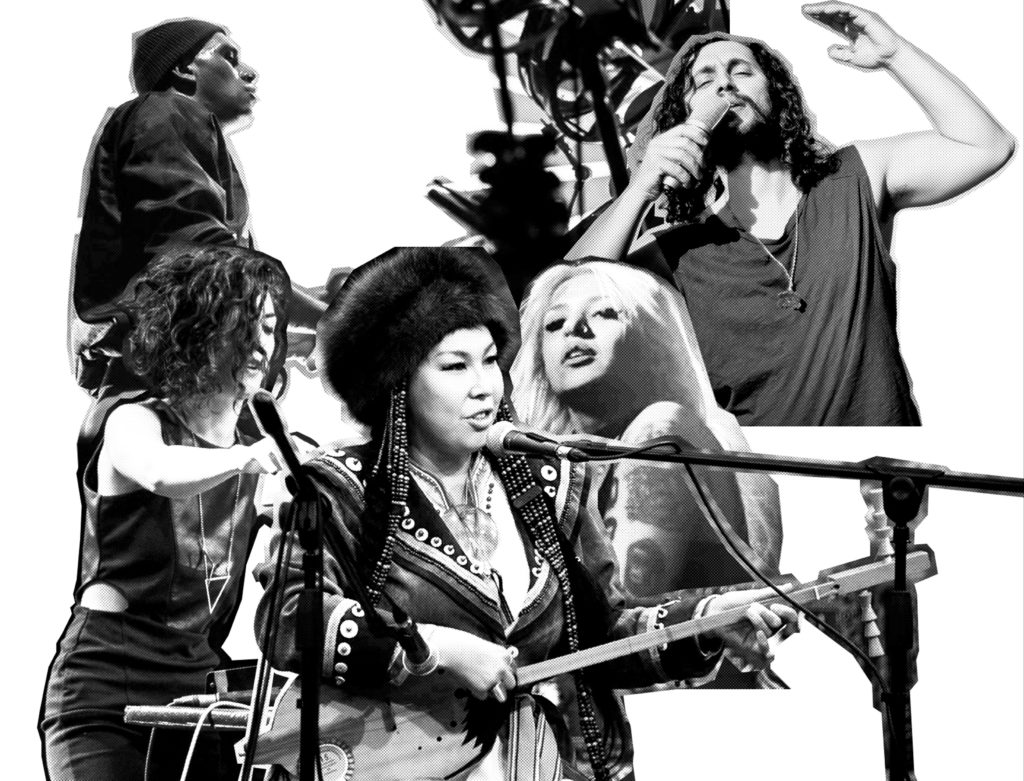 AYBİKE ÇELİK ÖZBEY
"Express how you feel to create something new"
Starting out in the experimental duo Sonic Chaos with her husband Tolga Özbey, Aybike Çelik Özbey is the voice of Reptilians of Andromeda, a representative of the DIY ethos and culture on our shores. Bringing together punk, garage rock, lo-fi, post-punk and no-wave, Özbey swims against the mainstream. She also pens the bands lyrics, inspired by real events and dreams, sometimes using the method of collage or elements of horror. "I take inspiration from everything," she says. "I make myself free to write, and I don't care what people think [or] what people say. It's an expression."
Özbey says of writing, "Basically, I create a scene from my imagination. I love to make my audience fill in the blanks of my lyrics." On the experience of playing with her band, who, contrary to many of their contemporaries, bring ample guitars and noise, she adds, "My head gets high with music. I experience many feelings at once, while in a trance-like state."
ERALP GÜVEN
"I've been drumming since I was two years old"
Previously in Riskk, Birds Ensemble, Derdiyoklar, Farfara, Hey Douglas, and recently oscillating between genres in Islandman, Eralp Güven is a master of percussion. Thanks to his family, Güven got acquainted with drums and the sounds of the '70's at a very young age. "I've been in it since I was very little – two years old," he says. "My family, my dad… you know, I grew up with those melodies… For me, in my childhood, that drum was there since day one."
As one of the trio Islandman, Güven weaves a human texture between the band's Anatolian flourishes and electronic layers, utilising drums, cymbals, and bells, all of which he plays while standing. He says of performing live, "That's the most enjoyable part of the job, I think – finding that chemistry with the audience and living that moment together. After you get it once, you always want to do it."
CHYLTYS TANNAGASHEVA
"Whenever I travel, people ask me: 'Who are the Shors?'"
Serving a spiritual and musical calling, Tannagasheva is a world-renowned Shorian throat-singer, a performer of epics, a fifth-generation shaman and artist, hailing from south-western Siberia's Kemerovo region. Preserving ancient customs while ushering in change, she creates music for the present day, woven into her culture's mystical ancestral traditions. "The folklore of every community is actually the primary eternal source that feeds our literature, our multifaceted and multicultural art," she says.
With her guttural, overtone singing, Tannagasheva has adapted a practice traditionally reserved for men, and she continues to break boundaries by bridging seemingly incongruous genres. Known to improvise and include animal sounds in her performances, she also plays the Kai-komus, a two-stringed wooden lute that accompanies epic stories passed down from generation to generation, performances of which can last for days. "Its distinctive melody is actually an intermediary for expressing emotion, excitement, and experience," she says.
AH! KOSMOS
"A bodily meeting, a bodily communion"
Red Bull Music Academy 2014 alum, composer and producer Ah! Kosmos finds expanding worlds while merging the electronic and analogue sounds she creates. On stage, whether alone or accompanied by live instruments, she frequently finds inspiration within interactive possibilities, collective experience and the unpredictability of live performance. "The aspect of live performance that is open to change is fascinating to me," she says. "With the songs echoing in different venues and the possibilities that arise in that moment, no performance resembles another."
Initially playing the bass in bands before starting to make music on a computer, Ah! Kosmos gradually focused on a more internal approach, improvisation, and composition. "Actually, I am not in a conscious state or making precise decisions while making music," she says. "Whatever's good for me in that moment happens and then transitions until the piece is over. Such freedom of flow is important for me while creating, and I am greatly nourished by it."
HAKAN VRESKALA
"A tambourine on my foot, on my leg a bendir, a darbuka…"
Hakan Vreskala's music touches many different genres. His journey began while playing drums with his high-school band, then took him to city streets, weddings, the Stockholm Royal Conservatory, playing on world stages as a percussionist, and eventually grabbing the mic for himself. Whether alone or for Şivan Perwer, Esmerine, Norrda, or Klubb East'n'bul, Vreskala storms the stage with infectious energy every time.
Though he plays many different instruments, he passionately embraced the drums at a young age. "I didn't choose them, I think they chose me," he says. "I saved up and bought a pair of drumsticks when I was 11. I remember just carrying them around with me for two years without even having played the drums. After calling myself a drummer for a year or two, with the lunch money I saved up, I then got myself a Cümbüş brand, scrappy, worn out old drum kit…"
*This article was created originally for Red Bull Music Festival's official magazine "The Note".