Ahead of the east vs west meeting on September 28 that will connect Istanbul's two coasts through hip-hop, we're taking a look at the scene's past and present, and honoring the heroes and formations at the heart of Turkish rap. Looking into the output of the German-Turkish axis in the 1990s, the cult albums that paved the way for the new movements of the 2010s, and the key figures that ensured the spread of hip-hop culture throughout the region: welcome to a dictionary of Turkish rap.


Words Leyla Aksu, Cem Kayıran
Ayben
One of the first and most long-standing female MCs in Turkish rap; Ceza's younger sister. First heard featured on Nefret's album Meclis-i Ala Istanbul when she was 17, Ayben released her debut album, Sensin O, in 2008. Not one to shy away from sociopolitical issues, in 2017, almost ten years later, she put out her sophomore album, Başkan, which was dedicated to women.
Aga B: MC from Ankara who's part of the VooDoo Records crew; also performs live with the Aga Bando lineup.
Ağaçkakan: MC and beatmaker carrying out the projects roadside.picnic, KGWK, and Sahtekar; one of the founders of M4NM.
Allame: MC, producer and animator, releasing his instrumental work under the name BabaKumpas; a founder of Batarya Records.
Altın Vuruş: 2001 mixtape featuring names like MC Kanun and Makale, with cover design by Turbo.
Aydabir: 90BPM's project to put out a new song every month prior to their 2014 album release.
Bir Pesimistin Gözyaşları
Sagopa Kajmer's album, running close to two hours and consisting of two separate chapters. Released in 2004, the album contains sound recordings from many Yeşilçam classics as well. Also an important influence on the new wave of hip-hop musicians, Bir Pesimistin Gözyaşları features guest appearances by the scene's top musicians, including Kolera, Fuchs and Funky C.
Bakırköy İstasyon: Collective formed out of Bakırköy, one of the centres of Turkish rap music.
Baneva: The Turkish rap scene's young talent out of Ankara.
Barikat: Hip-hop group helmed by Jöntürk and founded in 1996.
Boe B: The founder of Islamic Force, who passed away in 2000.
Boulevard Bou: DJ who released the Türkçe Hip-Hop Mixtape compilation in 1999.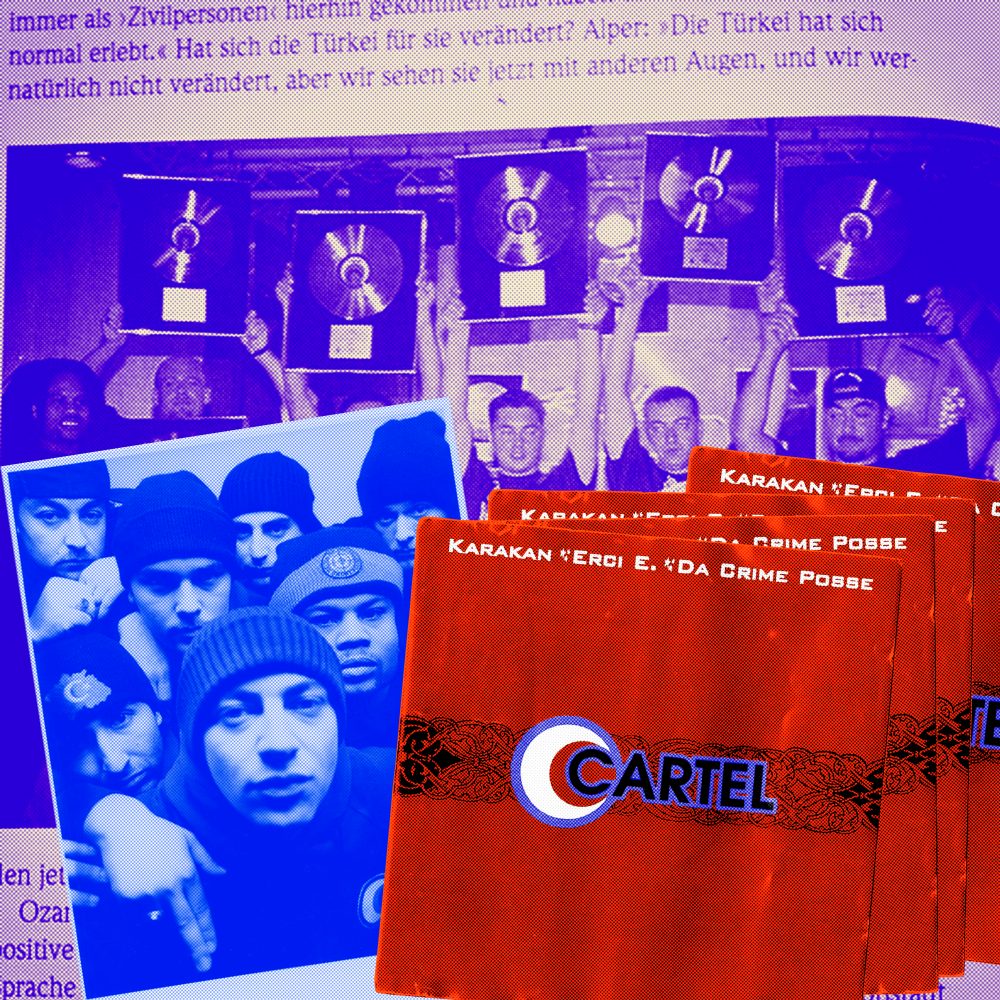 Cartel
Formed in Germany in 1995 and delivering the first popular examples of Turkish rap music, Cartel tops the list of groups that were the vanguard of the region's embrace of hip-hop. By bestowing the world of music with heroes like Erci E, Karakan and Kabus Kerim, breaking numerous taboos and scoring the era's biggest record sales, Cartel will continue to be the first thing that comes to mind at the mention of Turkish rap.
Canka: MC born in Stuttgart.
Ceza: One of the biggest heroes of the Turkish rap scene, who has made his mark over the last 20 years.
Cribb 199: Rap group formed in Germany, they have put out songs in Turkish, German and Bosnian.
Dr Fuchs
One of the most esteemed MC's in the second wave of Turkish rap. He first started in music by forming Uçan Silahlar with Drop, and after discovering Ceza, the two came together to start Nefret in 1998. When the group called it quits, Dr Fuchs continued as a solo artist, put together the rap group Istanbul Attack, and most recently released the album Her Şeye Rağmen in 2016.
Da Poet: Producer, MC and DJ garnering interest with his instrumental mixtapes; Freestyle King winner, 90BPM member, and half of Rain Lab.
Defol Dazlak: 1993 single by Karakan out of Cartel; one of Turkish rap's earlier records.
DJ Artz: DJ and producer from Ankara, has worked with MC's like Indigo, Şehinşah and Ezhel, and released his solo album in 2017.
DJ Mahmut: Still an active producer; released the first ever Turkish hip-hop album in Germany with Murat G, Volkan T and KMR in 1994.
Ezhel
A founder of VooDoo Records, MC and multi-instrumentalist from Ankara, formerly known to listeners as Ais Ezhel. He started out in the band Afra Tafra, won the title of Freestyle King, and currently continues to play in the reggae band Kökler Filizleniyor. With 2017's Müptezhel, featuring Bugy on production, Ezhel is responsible for one of the rap scene's biggest hits and its most widely listened to album to date.
Erci E: One of Cartel's MCs; started out in Berlin and released his first solo work in 1997.
Ethnique Punch: MC and producer out of Eskişehir, fusing experimental hip-hop with the sounds of the old east.
Eypio: Formerly a.p.o., an MC rapping in the Netherlands and Turkey for many years, he reached large audiences in 2015.
Fuat
German born MC who has been forging ahead in hip-hop for 30 years. Fuat started out attending hip-hop jams in Berlin in the early 90s, was featured on M.O.R.'s (Masters Of Rap) NLP compilation, and made his breakthrough with the solo recording Hassickdir? in 1999. He was featured on RZA's The Word According to RZA in 2002, returned to Turkey with 2005's Her Ayın Elemanı, introduced younger generations to hip-hop through numerous workshops, and recently started the Eller Konuşur Project.
Farazi: Beatmaker and producer; part of the 90BPM crew and projects Farazi V Kayra, Sahtekar and Anti-Kahraman; founder of Deadly Habits Music.
Free Flow Festival: Turkey's first international hip-hop culture festival, held in 2017, bringing big international names together with the local scene.
Fresh B: DJ and producer from Munich who merged rap and pop on 2000's Gerçek Kal.
Song recorded by Eypio and BurakKing which acquired record views on YouTube. Officially released at the end of 2016, the song serves hip-hop up with a side of pop and arabesque music, and is featured on the Eypio album of the same name.
Gemlik: County with a highly active scene since the birth of hip-hop in Turkey, which has produced names like Rapor 2, Hedef 12 and Maho B.
Gına: Rap group from Karabük; started when Kayra and Bitap got together during their high school years.
Gramafonia: A founding member of the #musicislove and Robonima collectives, MC and producer; releases his instrumental pieces under the moniker Headspin.
Grogi: Active since 2007, MC Ahmet Çaldır comes from the İzmir crew.
Grup Ses: Producer merging instrumental hip-hop with sounds of the past; has joined forces with many MCs in his work.
HipHopLife
In the Turkish rap scene, where the notion of collectives is always at the forefront, HipHopLife has become one of its most important entities in recent years. With its news portal, forum, dictionary and archive, it has come to form the backbone of the contemporary scene.
Hayalet Islığı: Farazi V Kayra's 2013 debut album.
Hayki: MC who came to prominence particularly because of his lyrics.
Hedef 12: Rap group comprised of Maho B, Tex and Hell M.
Hip Hop Jam İstanbul: Turkey's widest-ranging hip-hop festival.
Islamic Force
Rap group dating back to 1986, known for making the first Turkish rap recordings. Comprised of Boe B, Maxim, and Killa Hakan, the Kreuzberg-based group released its first album in 1997. Disbanding after the passing of Boe B in 2000, Islamic Force was among the groups that paved the way for Turkish rap.
Istanbul Attack: Project by Fuchs, Kargaşa, Ramiz and Timur; released only one album.
Izmir Coast: Hip-hop crew from Izmir with Ege Çubukçu, Göçmen and Tetik at its core.
Jöntürk
Turkish rap's old-school MC and founding member of the Bursa rap group Barikat. He started the break dance competition Güneşin Çocukları, as well as the first hip-hop radio show and the first hip-hop festival in Turkey; he opened the hip-hop culture center Boys of the Sun and published Bir Gençlik Çığlığı Hip Hop, the country's first book about hip-hop. Always socially and politically active, and releasing solo material as well, Jöntürk has been one of the hardest-working MCs in terms of spreading hip-hop culture.
Joker: MC from Eskişehir and former Batarya member; started out as Narkoz, AKA Stanley.
Kadıköy Acil
Kadıköy Acil's role in turning Kadıköy into one of the most important centers for rap music in the country is undeniable. With MCs like Ceza, Alaturka Mevzer, Selo and Heja in its stable, Kadıköy Acil is a formation that succeeded in transforming rap music into a neighborhood-centric culture.
Kamufle: One of the next generation of rap artists; always pursuing new avenues in his music.
Karaçalı: Rapper who released his first recordings in 2006.
Karakan: Legendary Turkish rap group that released two albums in the 1990s.
Killa Hakan: One of the most idiosyncratic figures in the Turkish rap scene over the last 30 years.
Kuşu Kalkmaz: Song by Sultana that also made a lasting impact with its banned video. .
Looptown
Record label founded by DJ Mahmut and Murat G in the city of Frankfurt, Germany. Their first release, Looptown Presents Turkish Hip Hop, was fully composed of Turkish songs and also included tracks by Volkan T and KMR, in addition to the founding duo. DJ Mahmut and Murat G's second album, Garip Dünya, was again released by Looptown in Germany and by Kod Müzik in Turkey.
Le Cafard: roadside.picnic's 2016 album, released in record format.
Levni: Producer based in Austria; also part of the Tektosag family.
Lise Bir: Track off 90BPM's album, Kötülük Bizim İşimiz, with beats by Farazi.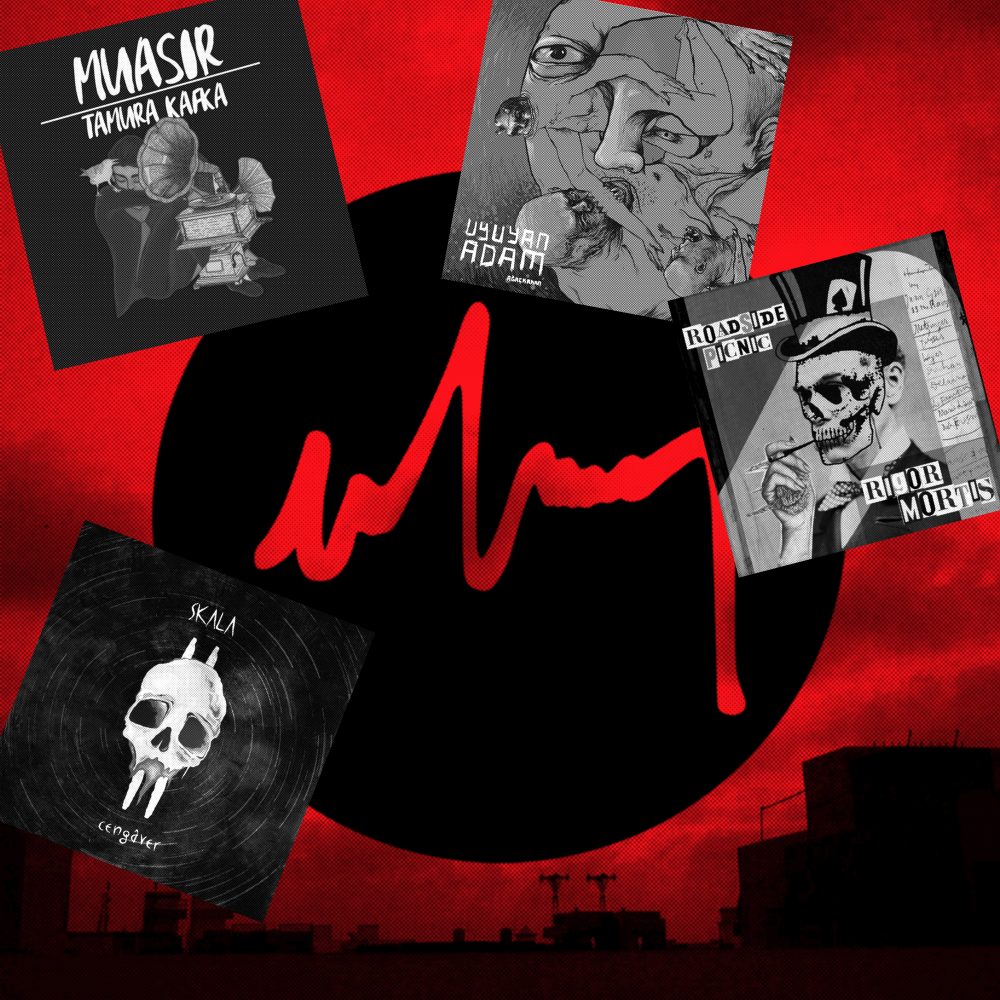 M4NM
One of the most prolific rap collectives to come out of the independent music scene in Turkey. Formed in Eskişehir in 2008, M4NM was named for Brian Eno's manifesto, Music For The Non-Musician. Some of names that have released albums through the M4NM label include MCs and producers like Ağaçkakan, I'mpty, roadside.picnic, Afgan, Muasır and Oldeaf.
Master of Türkrap: TV show put together and presented by DJ Ergün.
Meclis-i Ala İstanbul: Nefret album released in 2000.
Mode xL: Rap group comprised of Veyasin and Evren Besta; has been together for 15 years.
My Melody: Boe B's cult 1992 track, sampling İbrahim Tatlıses's song Leylim Ley.
Nefret
Group formed in Istanbul by Ceza and Dr Fuchs in 1998. The union of these two reputable names became the country's highest selling rap group, and heralded the second wave of hip-hop in Turkey with their debut album, Meclis-i Ala İstanbul, which was released in 2000. Parting ways after their sophomore release, the duo briefly got back together in 2009.
Neyim Var Ki: Released in 2004 before Ceza and Sagopa Kajmer parted ways and featured on Ceza's album Rapstar; one of the first songs to come to mind when thinking of Turkish rap.
Norm Ender: MC from Izmir who first became known through the internet; made his first official release with the double album İçinde Patlar.
Ottoman Empire
Rap group founded in New York in 1998 by two Turkish MCs, Sivas Kangalı and Altın Çocuk. That same year, they released their one and only album, 24 Ayar Altın, off their own record label. It was the first Turkish rap album to be released in the US.
Oldeaf: Producer who continues putting out releases under the M4NM umbrella.
Organize Oluyoruz: Compilation series spearheaded by HipHopLife, the first of which was released in 2011.
Pit10
An MC who got acquainted with rap at a young age and has been dubbed the "the most loved hated man." A founding member of Olympos, known for his ambitious and sharp tongue, Pit10 has released tens of albums and has also placed first in the Miller Music Factory. He's been working with the self-founded Epidemik Yapım under the name Server Uraz since 2015.
Patron: MC from Mersin who released six albums since 2009; was a part of the groups Necropol, 4. Boyut and Kardinal.
Rapstar
Out of the few Turkish rap albums that succeeded in reaching a mainstream audience, Ceza's Rapstar occupies a special place. For many, the most important manifestation of the highly active scene of the early 2000s, this album contains Ceza classics like Ben Ağlamazken, Holocaust and the Sagopa Kajmer duet, Neyim Var Ki.
Red Bull BC One Cypher Türkiye: Turkish leg of the world's most prestigious b-boy competition.
roadside.picnic: Alliance between Armonycoma or slt and Ağaçkakan.
Romantizma: Sagopa Kajmer album from 2005.
Sonun Geldi
The official debut album by Rapor 2, comprised of Gemlik's Maho-B and Ozzy, released by Zihni Müzik. The cover design for this 1998 release was handled by Turbo, and the group's collaboration with Radical Noize on the track Çiz is one of the first and most successful examples of hardcore crossover in Turkey.
Sagopa Kajmer: Controversial master MC, producer and DJ who started out as Silahsiz Kuvvet, also known as DJ Mic Check.
Sansar Salvo: İstanbul MC who was part of Olympos, Merdiven and Kadıköy Acil; released his first album in 2008.
Sekiz: 2011 collaboration between Kamufle, Red, Ais Ezhel, Anıl Piyancı, Keişan, Grogi, Nomad and İndigo; the song was followed by Sekiz 2, released two years later.
Sirhot: MC and producer from Ankara who started out in the group Narcotic and founded the Digitalmix studio.
Sultana: One of the first female MCs, a musician and producer from Kayseri; made a name for herself with the track Kuşu Kalkmaz.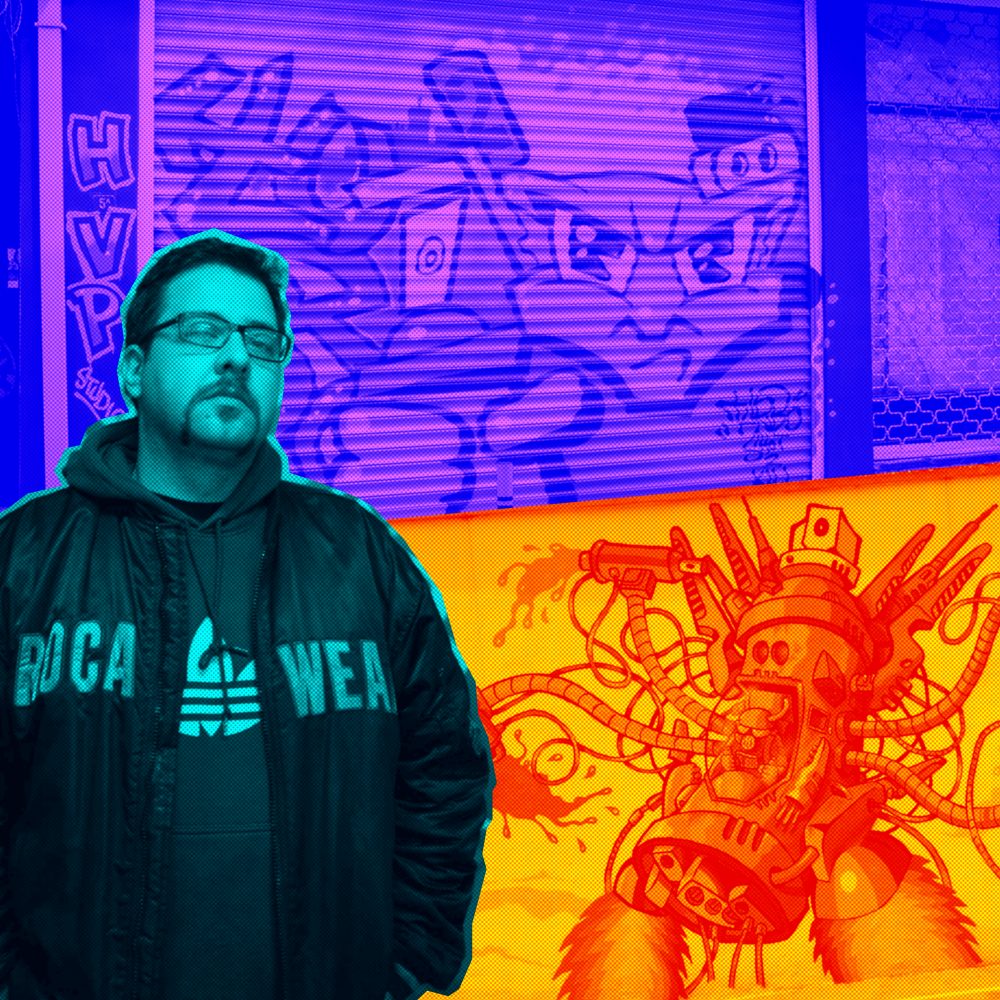 Turbo
Helming a multitude of projects since the 1980s, keeping hip-hop culture alive in the region, and becoming one of the most important figures in Turkish rap, Turbo is a graffiti artist and MC. One of Turkey's foremost icons of street art, among the most important building blocks of hip-hop culture, Turbo was also a member of the group Statik and took on organisational duties for the well-known compilation album Yeraltı Operasyonu.
Tam İsabet: Hedef 12 album released by the Ada Müzik label in 1996.
The Word Is Subversion: 1991 album from rap group King Size Terror.
Turkish HipHop Movement: Concert series organised by DJ Mahmut that was held in 2001.
Türk Rap Üssü: Compilation album released in 2002.
Ultimatum
King Size Terror album released in 1994. Also known as the first album to feature Karakan, Ultimatum is remembered for tracks like Defol Dazlak and Cehenneme Hoşgeldin, which sounded like a call to arms in the aftermath of the problems experienced by Turks living in Germany.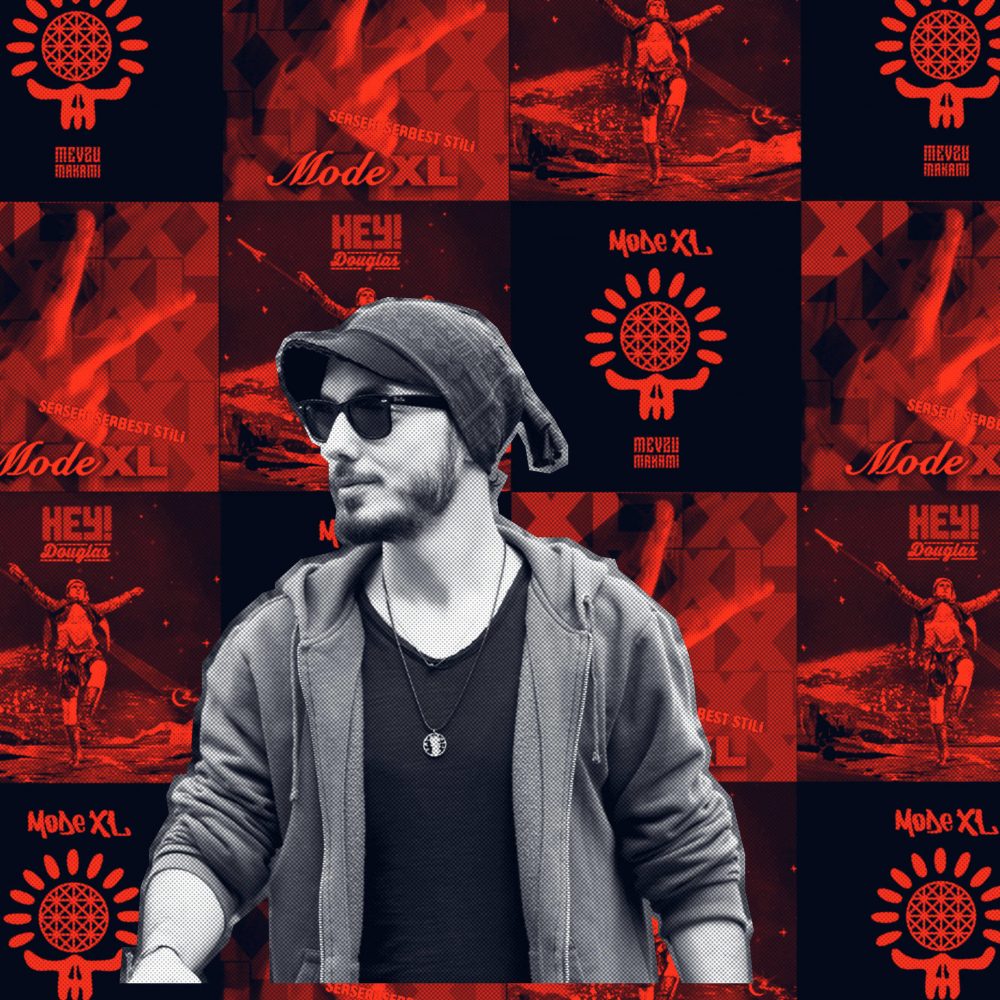 Unut Dedi Hatıram: Abluka Alarm's duet with Sagopa Kajmer.
Uyuyan Adam: Ağaçkakan album released by the M4NM in 2014.

Veyasin
Producer, performer, DJ and director E Yasin Vural, who listeners first met as half of Mode xL in the late 90s. Starting out by putting together breakbeat mixtapes, before moving into production, he has worked with a multitude of artists, ranging from Cem Adrian to Public Enemy. Weaving between genres, his project Hey! Douglas melds the sounds of today with those of the 70s, and releases his experimental work under the name Bodozloma.
Ventochild: Bora Başkan's producer moniker, under which he crossed paths with Gramafonia; he is also responsible for the cover designs of many rap albums.
Vinyet: Ethnique Punch album released by Austria-based label Well Gedacht.
VooDoo Records: Ankara recording studio and collective founded in 2010 by artists like Aga B, Ais Ezhel, DJ Suppa, and Funk'd up.
Released in 1999 by Kod Müzik, this comprehensive compilation album introduced Turkish rap to wider audiences, bringing together almost all of the scene's MC's. With Turbo from Statik in charge of the organisation and visuals, the album gathered pioneers like Nefret, Ses and Silahsız Kuvvet. Subsequently released in 2001, Yeraltı Operasyonu 2 features the likes of Islamic Force, DJ Mahmut and Yener.
Yak Yak Yak: Single by Şehinşah, with Bugy on production, and cover design by Cihan Kılıç.
Yener Çevik: MC active since the 90s; one of the frontrunners of arabesque rap and the Izmir scene.
Zemin Kat
Rap gatherings that began in a school basement in Karabük and later led to the formation of the city's first Turkish rap partnership, Zemin Kat Records. Founded by Gına, Zemin Kat expanded its operations by building a studio, in addition to throwing the city's first rap parties, and Farazi V Kayra's Sarhoş Palavraları ve Nahoş Nidalar is among the albums that have been recorded there.
Zaman Gibi: Song off Allame's album Fare Kapanı, released in 2010.
Zet: Musician also known for projects Raffineri and Kuvvetmira.
Zir-i Zemin: Pit10's 2004 album.
*This article was created originally for Red Bull Music Festival's official magazine "The Note".