In the giant pool of music: Altın Gün and "Yol"
Breathing new air into songs from the broad musical history of Turkey, Altın Gün's fame has reached all around in recent years. In light of the Dutch band's new album Yol released by Glitterbeat, we spoke with founder Jasper Verhulst and vocalist Merve Daşdemir.
I would like to ask Jasper what was the first encounter of you with Turkish music? Do you remember the first track you have listened to?
Jasper Verhulst: Selda Bağcan was my first introduction to Turkish Music. I do not know specially what was the first song but I think it was her first album that was reissued with a lot of bonus tracks. After that, I ran into Erkin Koray, Barış Manço and some other contemporaries like them. Then, when I went to Istanbul for the first time, I found also other records in shops and started collecting more by becoming fascinated more and more by those songs.
At what point did you decide to turn this passion into a band covering these songs?
J.V.: You already mentioned Jacco Gardner. At one point, he did not want to play live with a band anymore. It was basically the end; we were all fired. So, I needed a new job and thought of forming this band but I was not expecting that it could become a full-time job. I just thought that I really like this music and it is a shame that you do not hear it live at the festivals. Other than that, I live in a neighbourhood with a big Turkish community, went to school with a lot Turkish people and I know that there are Turkish musicians in the Netherlands. So, I thought to myself that I could find some Turkish musicians to play this music with. This was what I wanted to do.
This was the main focus, was not it? You wanted to play it live.
J.V.: At first, it was. Also, when we started to make music together, we made a cover version of Selda Bağcan's "Yaylalar" and copied her version of the song basically. Later on, we recorded a Barış Manço song. Soon after, we started to do our own arrangements and it made us see ourselves as a "folk band" more than just a "cover band". Because those musicians were also following the "folk traditional", it was not their own material. At least, for artists such as, Selda Bağcan and Barış Manço who also wrote his own songs but included folk tradition. To be honest, we didn't expect people to respond this way and there was definitely a demand for a recorded first album. We just did it on our own in our rehearsal space on a limited budget and did not think it would blow up like this. It isn't huge of course, but it's much bigger than we ever expected.
Merve Daşdemir: Yes, much bigger than we ever expected. We thought we were just going to play a couple of shows in Amsterdam.
I wonder what did you think when heard this offer? Did you already have some kind of connection with the traditional music from Turkey?
M.D.: Of course. I was born and raised there. I am from Istanbul and moved to Netherlands eight years ago. What happened was that I got tagged in Jasper's post on Facebook through our sound engineer friend, Jasper Geluk, and the moment when I saw that, I thought, it was amazing that such person from a different culture wanted to play the music from my childhood. I thought it was a very cool initiative considering that there are many stereotypical prejudices against minorities and Turkish people in Europe. Because of that, I definitely wanted to be a part of it.
You just told that you were not expecting these kinds of positive reactions. I feel really surprised that Altın Gün is really huge in Turkey as well. Did you predict that kind of admiration from Turkey?
M.D.: I really do not feel like we are known in Turkey that much. As an artist, when I look at Turkish media and what they follow, I do not think we are that huge in Turkey. We have a couple of sold out shows in Istanbul but that does not make us necessarily popular in Turkey. However, if you say so, that would make me happy since I always have the idea that some Turkish people do not like it so much as they already know these songs. On the other hand, there are some "Purists" that do not want to go into traditional music. Still, we did not expect that attention at all.
J.V.: I was also surprised as we were invited to play that music in Istanbul and realized that it was like the biggest honor you can get, if you started a band like this one in the Netherlands. People wanting to hear what you do with that music in the land where its origins come from makes you feel honor and we really love playing in Turkey. Those shows are usually my favourite ones.

At least, everyone can sing with you in here.
J.V.: Yes, but sometimes when we play in Germany, it almost makes us feel like we play in Turkey.

M.D.: Even the crowd of foreign people try to sing phonetically. Although they do not know the lyrics. Some fans start learning certain words through songs and when we go on shows, they scream some random Turkish words.
I got the chance to watch couple of shows of you in European cities, such as Beaches Brew Festival in Ravenna, Italy many years ago. It was really nice to witness the attention and joy coming from the audience. No doubt it is related to the musical approach you brought to the table with the songs. The new record "Yol" is kind of shifting in a different way from the previous ones. The songs I have heard from the album include different sound aesthetics as well. There is a huge 80's feeling with the use of 808 and drum machines. For instance, the cover of "Ordunun Dereleri" sounds like it came out of a John Carpenter movie. It is really creepy and strange for me to hear that song in such way. Could you tell us the creation process of the records, which was deeply affected by the pandemic?
J.V.: As you said, the drum machines played a big role in shaping the songs. A lot of songs just started out of a little groove that we made in the computer with a drum machine. For instance, Merve was singing some songs and she also inspired by a certain groove or she shared a song she wanted to sing that fits really well with the groove. Then, we just started to build on that point. This is the way we created a lot of songs but also some other songs were also come from our rehearsal space, just like we did in first albums. Again, there are some songs that we recorded almost live but the songs you have heard from this album are mostly lockdown songs.
"When you are in a rehearsal space with six people, it can be pretty positive and creative but sometimes it also means a lot of pressure." -Jasper Verhulst

I guess you all were recording your parts away from each other, at least for the demos? It sounds like it is sort of very layered as usual. Typical sound of Altın Gün with rhythmic patterns. When you were away from each other for a long time, due to the lockdown measures, how did it affect the production period and recording process? I wonder the effect of shifting towards a new musical point in the sense of creating and artistic side of the song.
J.V.: Everyone was reinventing something this time and experiencing something it in a different way. For some, it was really hard working like this and even when we finally got together in the studio in order to record our music, it was really hard as well. Maybe it was hard to find inspiration or adjust to it.
M.D.: Although we had played the songs together, two weeks before the recording session, it was hard for some people but there was no problem for me and Jasper. Besides, I can say that this is the most invested I have been in the creation process of an Altın Gün album and I think me and Jasper made almost half of the whole record. For me, it was a lot of fun since I love working in isolation by myself and Jasper does it too.
J.V.: Definitely. When you are in a rehearsal space with six people, it can be pretty positive and creative but sometimes it also means a lot of pressure. For instance, me and Merve are less technically skilled than Erdinç. The moment he has something in his head, he can do it instantly but we need a little time to have a sit and think about it.
M.D.: They are schooled musicians, yes.
J.V.: I think working this way gave each one of us the chance of bringing something new and this would not have happened normally if we were together all the time. For me, that feels good and interesting.
M.D.: There is still a couple of songs, such as "Maçka Yolları" and "Hey Nari" that has the more traditional sound of the previous albums.

Today, I was really surprised when I heard "Kara Toprak". It almost sounds like a Tropicalia song with the percussions. How did this combination come about on that track?
J.V.: Again, it was about the groove, which made me inspire. I just heard something on a record and started to jam on that with my MIDI keyboard. Then, it became a nice loop and as far as I remember, I added a simple bassline with one note repeating itself.
M.D.: I laid down the chords and we tried to arrange it. Arranging it took some time, do you remember Jasper? Later on, you came up the idea of adding synth brass.
J.V.: When I made that groove, I did not have the song in my head but Merve heard it and said that it could work with "Kara Toprak" and it was the song she had already wanted to add to our album.
M.D.: I am really happy with the selections of the song in this new album.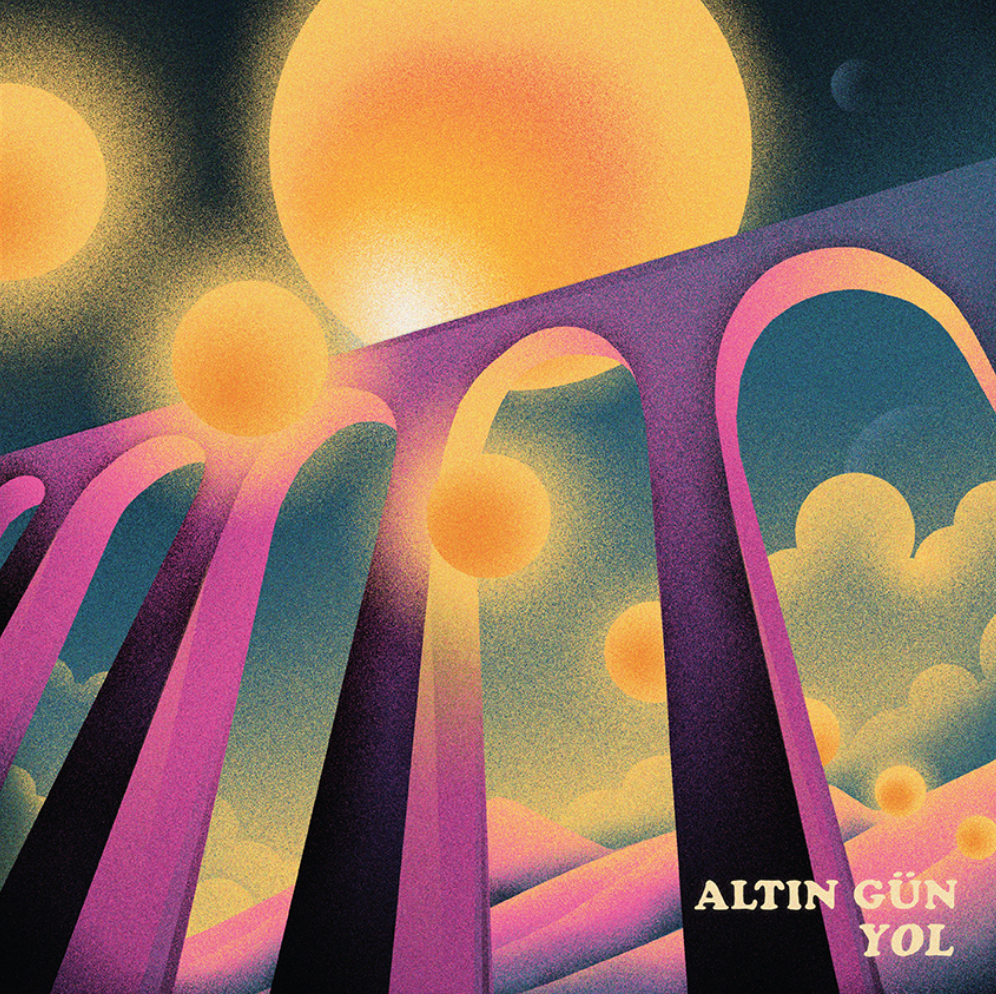 How did you make the selections for this album? Could you tell me how did you choose the songs and end up with this collection?
J.V.: It is different for each song. We did not have a concept and did not think about making an album including 80's sound. That is because we use synthesizers and drum machines a lot.
M.D.: It comes really naturally.
J.V.: Sometimes it starts with an idea of arranging a traditional song, which we really like or we combine a groove with a traditional song that has a harmony with it.
M.D.: When you are Turkish, you can imagine the pool of music in your head and it is easy to bring one out to create its new version. So, I had already some ideas in my mind.

"We always register to each song's original songwriter but they want an extra licensing fee in Turkey." -Merve Daşdemir
You mentioned that these are usually traditional folk songs but what about some other tracks including copyright issues? Is it one of the points that you bear in mind when you try to finish an album?
J.V.: In the first album, we did not. Then, we had some issues. By playing the song we liked, as a group, we did not think about those who own its rights.
M.D.: One can make a cover version of a jazz classic. So, we did not expect that. In our first KEXP performance, some songs were taken out because of these issues and it was really strange to me. What I know is that you can play live anything you want from any artist and that is not an issue but in Turkey, they have very different copyright organizations than the rest of Europe. We always register to each song's original songwriter but they want an extra licensing fee in Turkey. It is related to the labels that own the songs. However, our new album includes more public domain songs.
In today's music industry, when you listen to the music through streaming services, there is not much editorial material indicating the information of a song. As Jasper said, when your musical approach is like a folk band rather than a cover band, people do not get if it is an original song or a cover version of the original but you changed the attitude towards it. I just want to know whether it is something that you think in the studio or do you not take it as a problem?
M.D.: Sometimes, we check that with the management if we can do a song that we want to arrange and it is just a matter of dialogue, not a huge problem. In Turkey, such rules, like extra licensing fee, are really strange to me.
What about your foresights for the future of music industry after the pandemic? Do you think that you will be touring soon?
M.D.: Not really. To be honest, this summer and the festival season do not look good.
J.V.: I have read that they found something against this virus, which cures people in two days but we hear such things constantly. All you can do is to wait and see what will happen. It would be great if we toured but we will continue to make music.

As a band that pursue its career playing live, it must be really hard not being able to play, especially when you have released a new album.
J.V.: Yes. But we also discovered new sides of ourselves. It also has some positive effects.
M.D.: If there had not been a pandemic, we would not finish this album. As we had much time on our own, it became a great opportunity to make music, which something I really missed to do when we were on tour.
I know that you two are deeply into Turkish music from the past but do you also follow some new music releasing in Turkey or do you have favourite ones from the local scene?
J.V.: I do not follow new music that much in general.
M.D.: Me neither. I am so lazy on this and only follow Jasper's playlists.
J.V.: I am kind of addicted to digging into the past and finding an obscure music from the old periods that not so many people have heard of. Sometimes, I hear something new and think that it is really nice but I do not specifically seek for new tracks. Once we played together with Baba Zula, which was quite good. Other than that, I saw Gaye Su Akyol live in Rotterdam and it was pretty cool.
Thanks a lot for your time. Lastly, do you have something to say for your fans in Turkey about the new album or the future?
M.D.: They are still asking about the compensation shows that we canceled last year. We do not have an exact date for the shows but we cannot wait to get there again to play with a proper tour.
Interview by Cem Kayıran
This interview is originally published in Turkish in Bant Mag. No: 74, our special music issue.