Open Frame: Jason Lazarus
"… I sought to embrace idiosyncrasy and gut over objectivity and order"
Interview by Leyla Aksu
Currently based out of Florida, American artist, curator, writer, and educator Jason Lazarus presents our everyday experiences, what we choose keep in our personal archives, and fragmentary collections of our photographs and memories within the framework of art.
Utilizing the archival form in his recent projects and exhibiting his pieces, most of which span years, in venues across the world, Lazarus embarks on his work by asking seemingly simple questions, and his various projects, such as Recordings, T.H.T.K. (Too Hard to Keep), and NIRVANA simultaneously function as records of histories whose importance have been overlooked. The artist's NIRVANA series, which began in 2004 with Lazarus asking his friends the question "Who introduced you to [the band] Nirvana?" is a collection of snapshots and story fragments carefully culled together, each affecting in their sincerity. Also released as a book by Here Press, we talked to Lazarus regarding his ongoing NIRVANA project, and when, if ever, he feels a project is finished.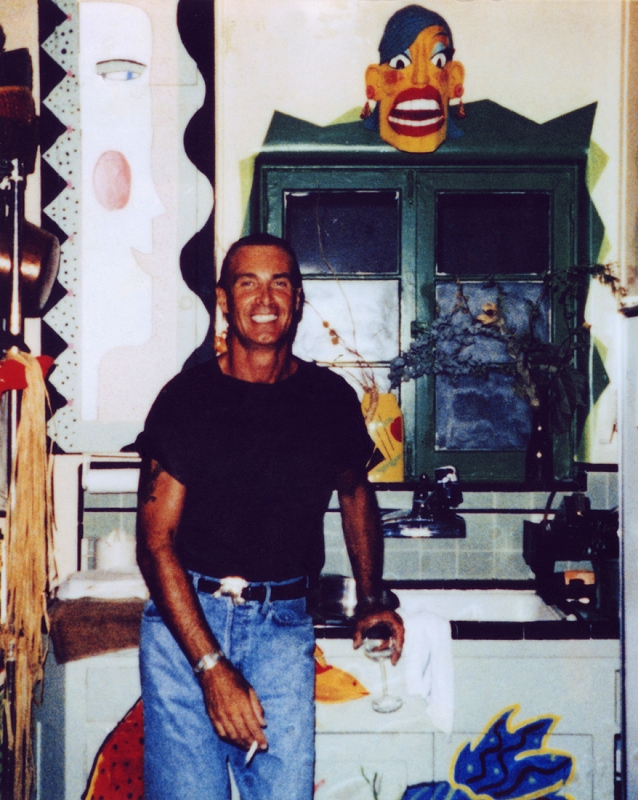 My uncle used to fly me out to Los Angeles as a kid. He was my early introduction to music, epecially the ramones and joy division. he paid me $100 to coat check his parties at 8 years old. I listened to nevermind for the first time with him, straight through at the kitchen table. I lost him to AIDS in 1994.
What draws you to photographic objects and the creation of archives? When starting out, what do you look for in a project?
I think [it's] simply an impatience for the limitations of making with a camera. Archives, for whatever, reason speak to some personal values I have and the desire to make archives from a subjective position (embracing everything non-museological about ideas/methods/strategies/tactics for archive creation).
When and how did the idea for NIRVANA first come about? What did you want it to be?
My friend showed me an idiosyncratic snapshot of the guy who introduced her to Nirvana. It was a photo I would not have made with my grad-school training: Out of focus, light glaring, 35mm, etc. I thought the photo had immense power, and that was the first time I thought about making with an archive or a collection of vernacular photos.
How were you first introduced to the band yourself?
MTV!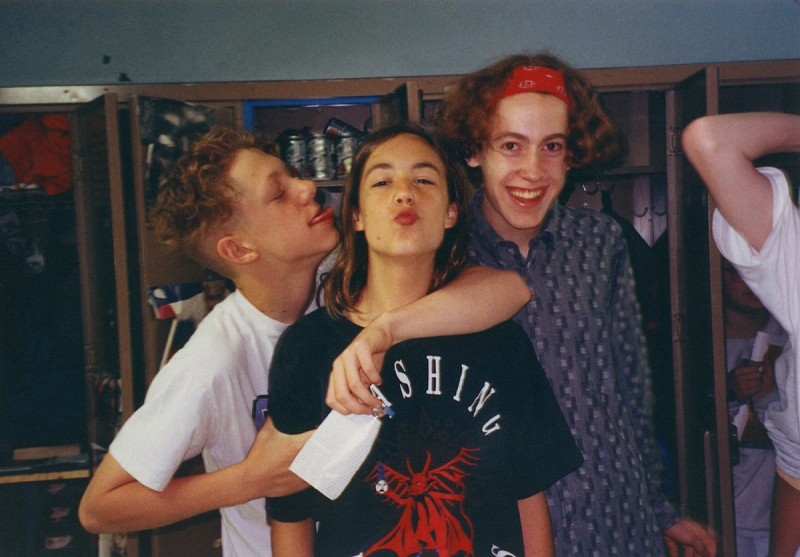 Max introduced me to Nevermind. I am on the left, he is in the middle. soon after this picture was taken, we formed a band called '18 Dimensions of Love'. We had loud guitars. We opened for LOW at their first show. We were a pretty good high school band.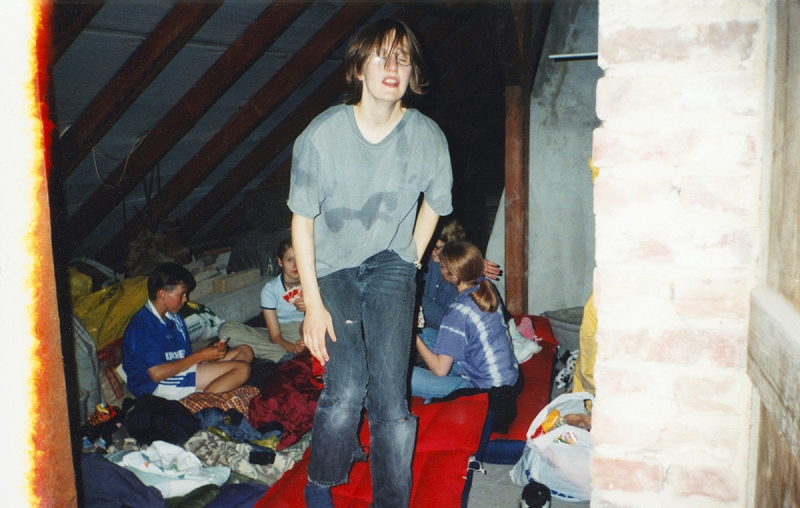 In 7th grade, my class had a sleep-over weekend in my parent's attic. My friend andrea came but she wasn't really into the whole class spirit thing since she had recently turned into a grunger, later a real punk with died hair, a rat and everything while everyone else was literally still playing boardgames. Her dad was one of the first one's i knew to have a cd-burner, which is how she introduced me to Nirvana
Every archive has implied imposed boundaries established through a curatorial process of selection. Can you tell us a bit about the process of collecting and curating these images? Was the experience different compared to your other work?
Yes, the experience satisfied all these new desires I had to create small minor histories from vernacular images, and that these were paramount to my own photographic work. The more I learned about archives, the more I sought to embrace idiosyncrasy and gut over objectivity and order… I never put anything under glass, everything could be ripped and stolen right off the wall; I like that vulnerability and presence. I try not to overproduce – I want the public to feel my hand, not even an enlargement (reproduction) where you may think about the printer rather than the solitary original.
When publicly presenting these private photographs and stories – fragmented pieces of memory – what do you feel the archival form achieves? How does it play with our notions of public and private?
They are completely blurred; we all embody this multitude among many others… The Internet has become another tool to treat history/the present as rhizomatic rather than linear, which is inspiring to me…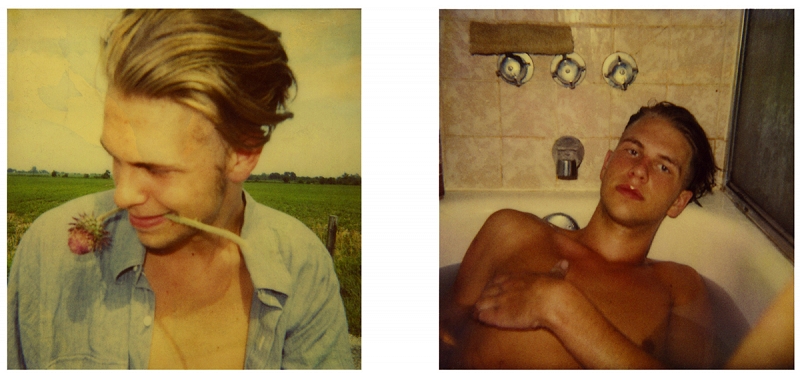 Dave was my cover boyfriend in high school. He introduced me to Nirvana and mushrooms. He carved my name into his arm with a razor blade and when I tried to break up with him, he read me a love poem over the phone that I later recognized as a song from Dark Side of the Moon with my name inserted at significant moments.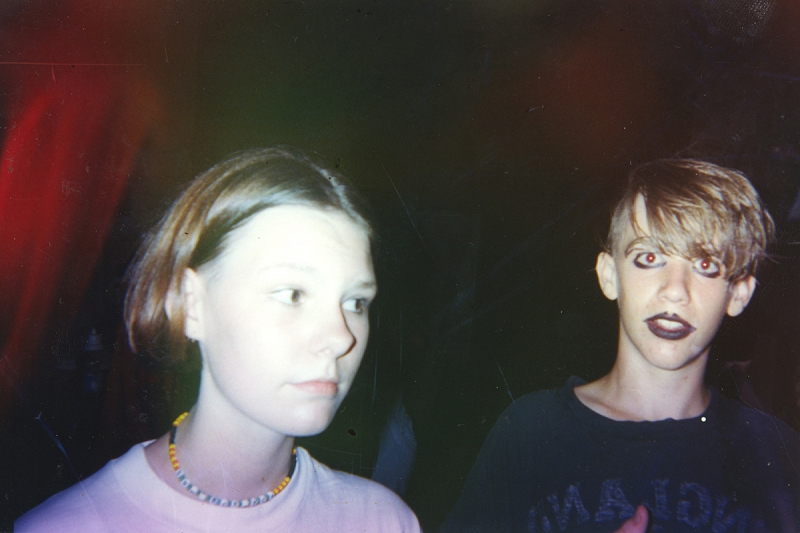 Here is my best friend from high school, Lindsay, with Wes in the background at a christian camp in southern Oklahoma. Lindsay and I met in high school but we met Wes at camp. i can't not think about her without thinking of Nirvana. Both her parents were alcoholics so if we weren't taking refuge in her room we were driving around smoking pot or going to a local show at the armory in Edmond. OKC had a pretty good punk scene that i am so thankful for.
As the project is interactive in nature, with viewers adding their own experiences to the collection in a sort of ongoing expansion, do you feel there is ever an end to such pieces?
Whenever I run out of energy or I stop learning, the project is over. I like to keep things open though, and not "close the frame."
You've said that in your work you look for "moments and spaces in which our political, cultural, and historical landscape reveals itself." Can you talk about the role of materiality within that?
Materials have meaning. Everything is sensitive to this idea, and as I drift away from traditional photography, this becomes the foreground to any consideration!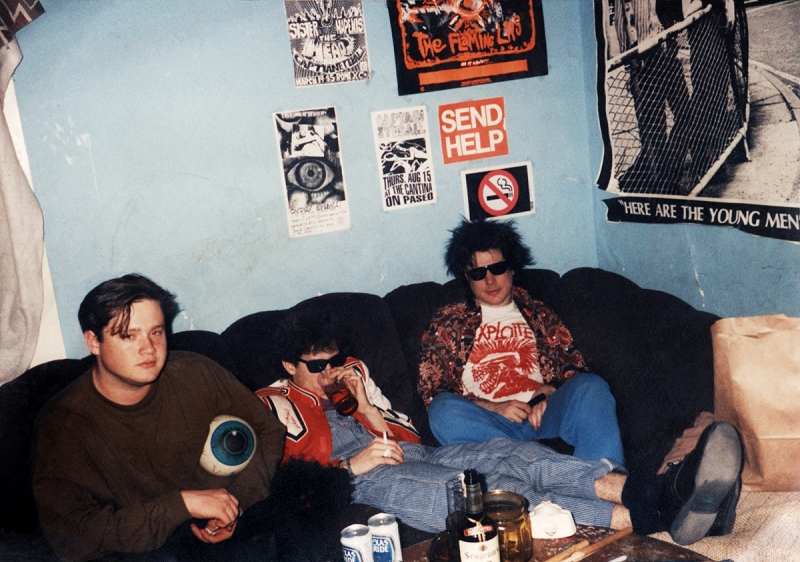 I dated dave (left), bassist of Oklahoma City's 'Captain Eyeball.' He inroduced me to a number of my favorite bands and labels, mostly 4AD and Sub Pop, The Pixies, Tones on Tail, Sonic Youth… it was from him that I first heard Bleach and liked it right away.
You've released a book through Here Press consisting of the photographs and stories from the project. What was it like to prepare them for a different medium?
The designer Ben Weaver at Here Press was very sensitive to the layout. We discussed these memories as always fragmentary, and decided to have the photos continue around page edges and never appear fully visible. The feel of the book isn't formal, rigid, or 'objective' by design. It was a true collaboration; I am lucky to have had the opportunity to work with them!
If this were to be recreated for a current artist or band, do you think it would be possible to achieve the same scope and effect?
I will only say that one of the charms of Nirvana, as a subject, was that it is largely pre-internet – when it took a cool older friend or sibling to keep us broadening our cultural topography.
What are you currently working on?
I just debuted a new project called PDF-OBJECTS in Chicago, IL. It's a collaboration with Sean Ward (NY); you can find the info here.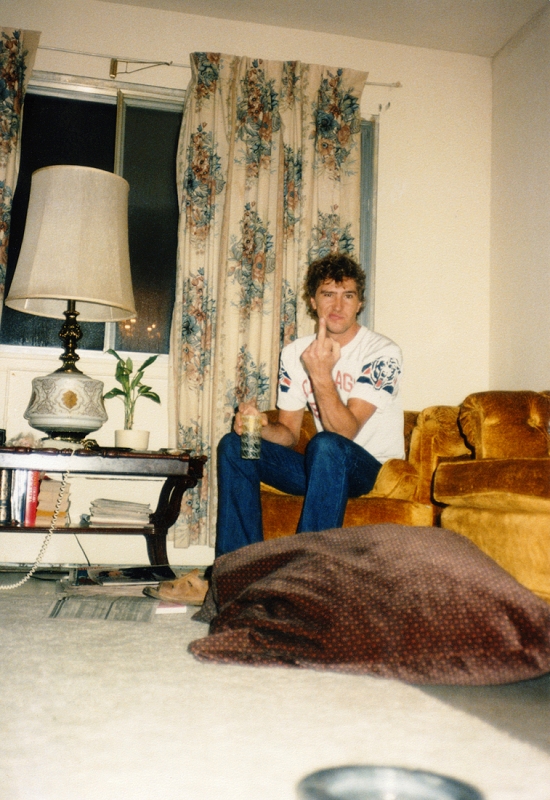 Mikey, my mom's second husband, introduced me to Nirvana's Nevermind record…he was around until I was 13.

*Originally published in Bant Mag. #51, August 2016